BEST BACKUP IRON SIGHTS (BUIS) FOR AR15S
Unless you're old school or competing, chances are you probably have an optic on your rifle and not iron sights. Traditional iron sights offer a lot more to shooters than realized however, and God forbid if your expensive red dot breaks, or the batteries run out; you'll be glad you invested in a quality set of back up iron sights. There are a ton of options for iron sights; so I chose a low, middle, and top tier example to show you just how much a simple iron sight can vary in quality, price, and durability.

An AR15 with fixed backup iron sights (BUIS)
Types of Backup Iron Sights
Believe it or not, as simple as iron-sights sound, they are not all created equal. In fact, they can be pretty different when it comes down to it. There are two main types, with a school of thought behind each:
Fixed Sights: Exactly what they sound like, fixed sights don't budge or fold down to get out of your way. Shooters who run these like the ability to switch between a red-dot optic and their sights seamlessly should their optic ever go down in a fight. The disadvantage here is that you can only run these with a red dot, they often block your use of a magnifier, and of course, they don't fold out of the way. And with how bombproof an EOTech and Aimpoints are, what are the chances it actually fails?
Folding BUIS: They type we'll discuss more in this article, and the type 90% of shooters prefer. They are streamlined, lightweight, and if you buy quality, just as durable as fixed irons. These allow you to fold them underneath a scope, so you can still have a back-up option should a magnified optic ever fail, and they don't obscure part of your sight picture through a red-dot. Should the worst happen, it only takes a second or two to get them into action, but they don't have to be in your line-of-sight the rest of the time.
UTG Flip-Up Iron Sights
The UTG sights don't have much going for them in my opinion. What little they do have, is aluminum construction and price point. Maybe I'm old fashioned, and I understand that polymer is light and durable, but there's something about actual metal that just screams durability. Also for right around $50.00 a set, they're about as affordable as you'll find. For a more budget minded build, or for something that will only ever see a range and no real use, these may suit you just fine. And some people are perfectly happy with them.
Now, where the UTG sights fall short: they're incredibly bulky, and poorly designed. A good BUIS is out of sight and out of mind, and shouldn't be in the way until they are needed. The UTG sights however are tall even when folded down, very bulky, and quite frankly just an eye sore. The windage adjustment knobs seem cheap and do not offer a lot of confidence in holding a zero, also the knob to tighten the sights to the rail is large and susceptible to damage or hangups.
UTG offers a budget-friendly option. Both Front and Rear are available.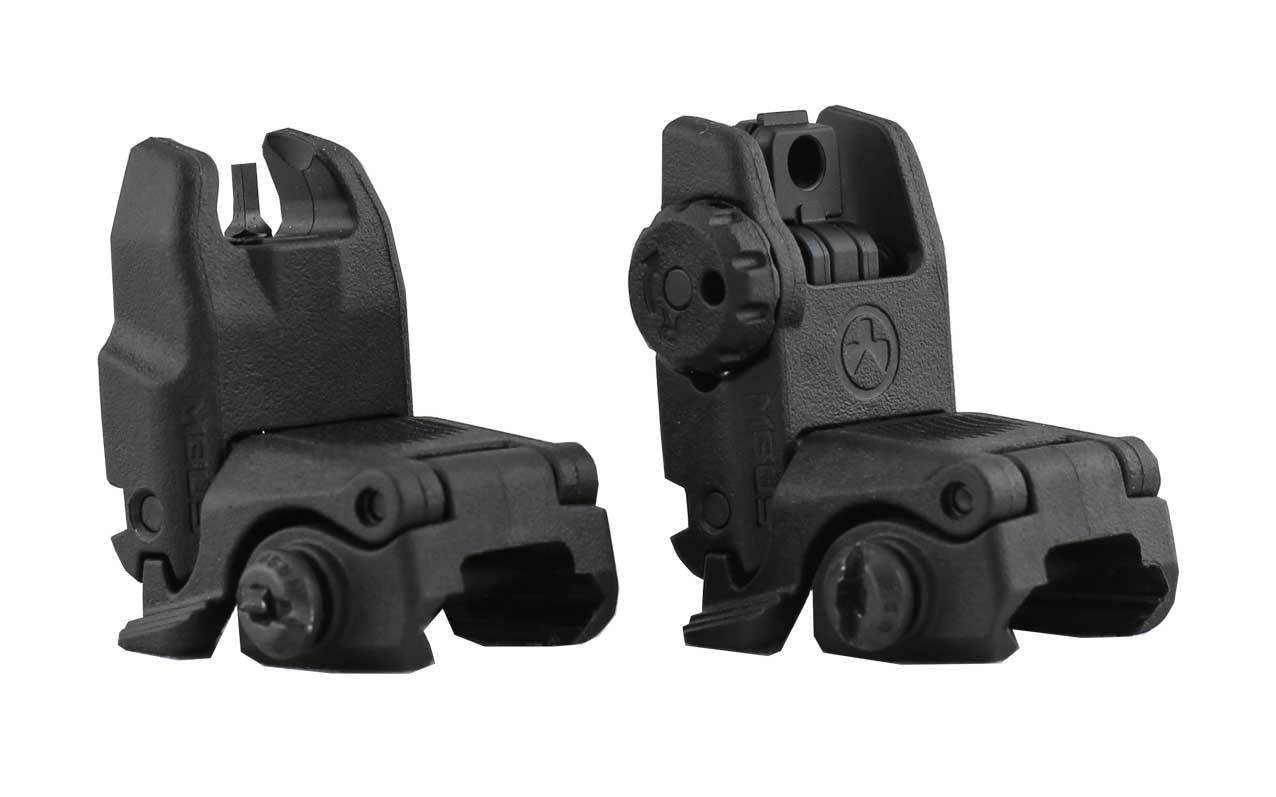 Magpul MBUS Front and Rear sights. Perfectly capable for the average shooter.
MagPul MBUS Gen 2 Flip-Up Sight
Without a doubt, MagPul is the most common rifle furniture on the market. I would even go out on a limb and say probably 80% of the AR-15's I see today have some sort of MagPul product on them. And just like most of their other products, their sights are aggressively average. For my own personal preference, I don't really like plastic or polymer when I can avoid it, but if you're on a budget and want a sight that does everything adequately (however nothing exceptionally) this is your sight. The Gen 2 sights are fairly low profile, offer a nice positive spring assist lock, and you can be fairly confident in them holding a zero for an extended period of time. I do like that these sights are available in a wide range of colors, so you'll be able to find a color that matches your current rifle. At roughly $90.00 for a complete front and rear set, I would spend a little more money and buy a nice high quality sight. But for the average consumer with average usage, the MagPul Gen 2 sights are...you guessed it...perfectly average.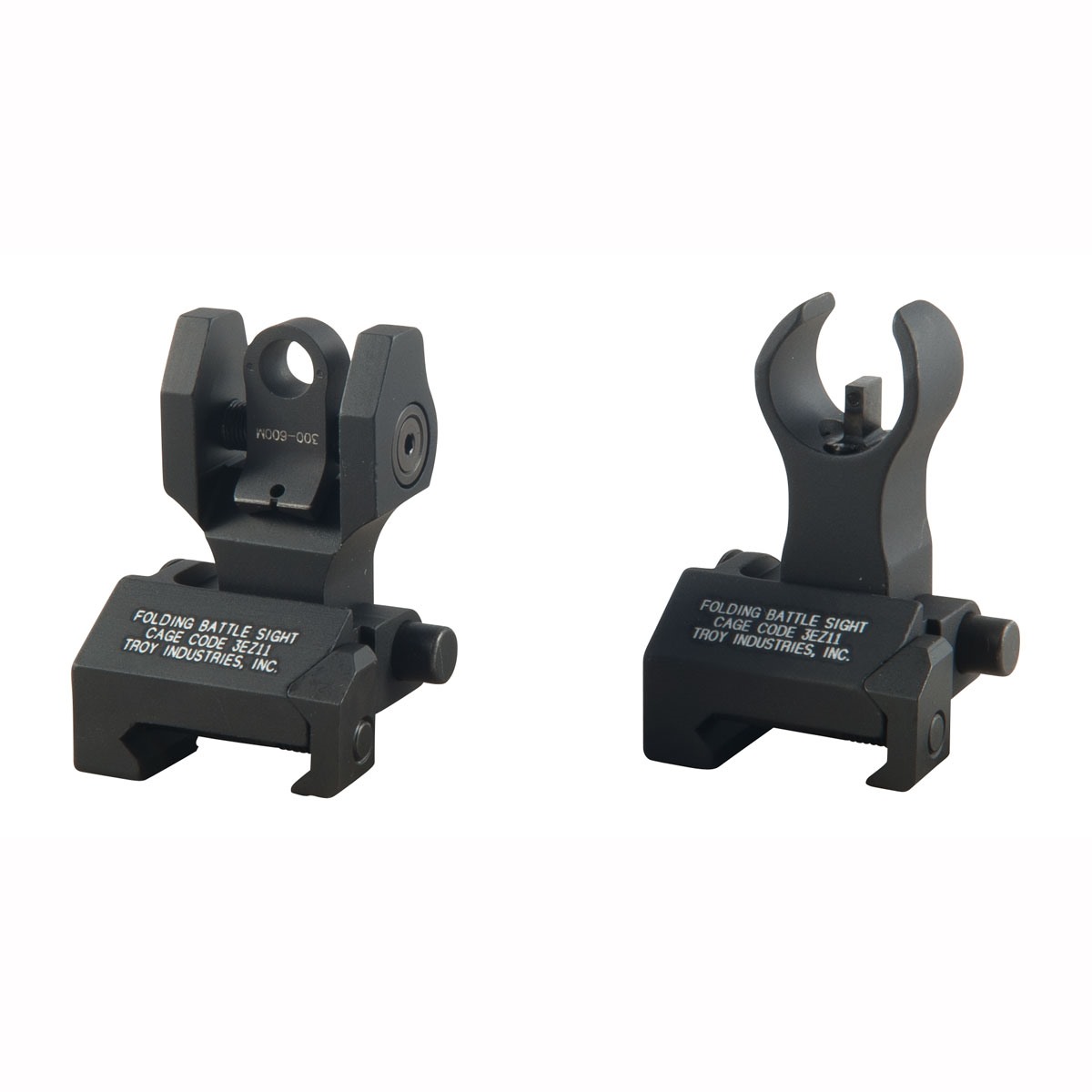 Troy offers battle-tested sights with adjustable apertures and a solid lockup.
Troy Industries Micro HK Style Battle Sight
Ah yes, the Cadillac of iron sights. The cherry on top. The King of the sight jungle. Okay, I think three expressions are enough. These sights are the bees knees (last one I promise). Right off the bat, let me be upfront and say that these sights are $200 a set; but worth every penny. My favorite thing about these sights, is the HK style sight-picture. This style helps aid in quicker target acquisition, and seems to point much more naturally than other traditional M16 style. The Troy sights are incredibly low profile, and you can truly forget they are there until you need them. Spring assisted, the sights lock into place with affirmation, and are quickly folded back down with the push of a button. The windage and elevation is are easily adjusted, and after thousands of rounds fired; the shooter can flip up the sights and rest easy knowing the zero will still be true. Named "battle sight" for a reason, I would trust my life to these sights without second thought. Available in high grade aluminum, they are as high quality, durable, and reliable as you will find.
So Which Iron Sights are the Best?
There's a common saying that goes something like "If you have a $2,000 rifle and a $100 scope; you have a $100 rifle" meaning: your rifle can be capable of incredible accuracy, but without solid optics you'll never be able to shoot as well as it's capable of. Bearing this in mind, I think it is clear which of the above BUIS I prefer.

While hopefully your iron sights won't be your primary sight, why put something of poor value on your gun? When you want it or need it, you'll be happy you spent the money on a high quality product that enhances not only the ability of your rifle, but your ability to use it effectively. Especially because if you find yourself using your backup sights, failure is not an option.
If you are thinking of buying yourself some quality backup iron sights, please browse our full selection of sights and optics here!