GST-9, Better than a Polymer 80% Glock
An Upgrade Frame for Your Glock Parts
If you read my last article "Glock Reliability and Reputation" then you hopefully understand how incredibly durable and reliable the Glock platform is. You are also probably aware how I feel about certain aspects of the Glock; such as it's less than stellar sights, subpar trigger, and overall boring aesthetic. Luckily for me, and for the millions of shooters who struggle with the same issues: 80% Arms has released the GST-9. Bridging the gap between good looks, high custom-ability, durability, and reliability. The GST-9 picks up the slack where Glock falls short. Read on to see where exactly the GST-9 shines.
Lower Ergonomics
Right out of the box, you're going to notice the aggressive styling that the GST-9 sports. With a more aggressive grip texture, stylish trigger guard angles with a deep undercut, and more natural grip angle, the GST points well and looks good doing it. Coming stock with ambidextrous gas pedals, your grip feels solid for precision, follow up, or rapid fire shots. We left plenty of room on the grip to allow for custom stippling patterns, and our high grade polymer lowers accept light to aggressive style stippling well compared to other lesser grade lowers. And unlike many polymer handguns on the market, our grips are able to be swapped for longer or shorter grip configurations.
Grip Angle: With a 1911 style grip angle, the GST-9 points extremely naturally. Combined with a deeper beaver tail than the Glock, the GST forms extremely well into the hand, and gives the shooter a great feeling of control and security over the firearm.
Trigger Guard: We have designed in a deep trigger guard undercut for an enhanced grip and control over the pistol. With a more aggressive looking guard that is till large enough for gloves, but angled enough to give the GST a mean look, the updated angles are the best of both worlds.
Gas Pedals: Dual gas pedals provide a rock solid foundation for your grip to give you an extra vote of confidence when making precision or rapid shots.
Internal Rails: Not only did we increase the length of the rails by 3 TIMES that of the Glock, we went a step further and nickel boron coated them for extreme durability. Also able to be ran without lube, the longer internal rails aid in accuracy, durability, and give the action a smoother cycle. A high end modification to most firearms, these nickel boron coated rails come standard with the GST-9.
Interchangeable Grip sizes: Able to be switched from a compact carry style to a larger duty gun, the interchangeable grips are perfect for those people with large hands, or who have more than one purpose for their handguns
Color Options: Available in black or flat dark earth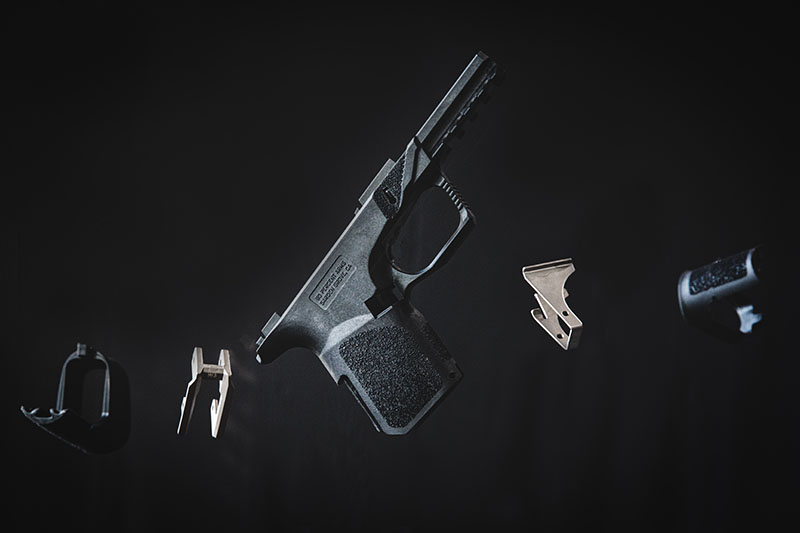 The proprietary rails are part of what makes the GST-9 so special
Durability
The GST-9 is completely compatible with Glock 19 parts; so rest assured you will have a durable and reliable firearm on your side; as you would with a standard Glock. However as mentioned above, we decided to further improve on Glock's durability by offering internal slide rails that are 300% as long as those found on a Glock. Not stopping there, the longer rails are also nickel boron coated, which creates an extremely hard and durable coating; and lubricates more naturally. These rails directly translate to a more secure and stable slide, a smoother action, and peace of mind knowing that when your gun starts to get dry you can squeeze out a few more mags.
Building your own 80% Glock Compatible Pistol
If you're like me and want all your guns to perform optimally; you very rarely buy complete firearms anymore. I have found that building your own guns from the ground up saves you money, increases your guns performance, and is just plain fun. Once you find a solid lower foundation like the GST-9, it's easy to pick out your slide, barrel, custom trigger, and even higher end magazines at your own financial pace: and build your dream gun. You won't spend $550.00 on a stock handgun, only to be wanting more out of the guns performance. Instead, you'll likely spend the same or less money and have a gun personally tailored to your skills, style, and intended use.
Check out all of 80% Arms complete build kits, lower units, or aftermarket parts and accessories to complete your GST-9 build; and have all your buddies at the range drooling over your new piece!