How to Travel with a Firearm by Car or Air
The holiday season may be over but that it's just a matter of time before another one comes around. After all, 2020 was pretty much a blur. Let's say you want to visit family, but you do not want to leave behind your trusty AR-15. What are your options? You could lock it in the safe, but then we're back to square one. Instead of leaving behind your rifle, the only real option is to travel with your firearm. But how?
As many firearm owners learn firsthand, traveling with a weapon can be complicated. The first time is always the scariest. Airports, TSA employees, and police officers can be overzealous. They see a rifle; they draw their sidearm, and your hands fly into the air.
We aim to help you avoid that mishap altogether.
Federal Law
Thanks to federal firearm laws, you are legally allowed to travel across state lines with your firearm, according to US Code 926A. But follow the regulations to the letter, of course.
"Notwithstanding any other provision of any law or any rule or regulation of a State or any political subdivision thereof, any person who is not otherwise prohibited by this chapter from transporting, shipping, or receiving a firearm shall be entitled to transport a firearm for any lawful purpose from any place where he may lawfully possess and carry such firearm to any other place where he may lawfully possess and carry such firearm if, during such transportation the firearm is unloaded, and neither the firearm nor any ammunition being transported is readily accessible or is directly accessible from the passenger compartment of such transporting vehicle:
Provided, that in the case of a vehicle without a compartment separate from the driver's compartment the firearm or ammunition shall be contained in a locked container other than the glove compartment or console."
Driving With a Firearm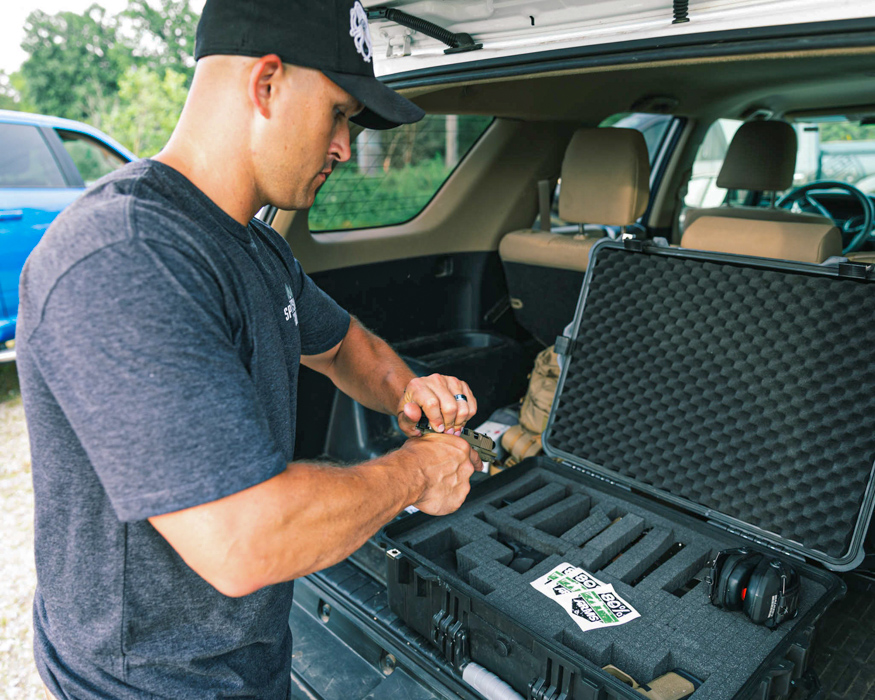 In layman's terms, you must have a license to own and carry firearms in your home state, lawfully possess a gun in the state you travel to, and you may not travel with a loaded firearm. Also, you cannot travel with a gun within easy reach. Further translation for handguns: if you have a concealed carry weapon permit (CCW) that will allow you in some states to carry it loaded on your person, in a reachable bag, or in your glove compartment box. Please make sure to check a carry reciprocity map to see which states honor your license and which don't.
For any firearm in general not being used in a concealed carry setting, firearms are best kept unloaded in a case separate from magazines, ammo, and locked in your trunk. If you opt for a soft case the method to lock your firearm would be to use a gun cable. The technical and legal distance to keep your firearm away from you in the vehicle is anywhere not within reaching distance. If you want to put one in the backseat that is fine but in the event you get pulled over by a police officer you'd rather have the gun in the trunk to make the officer feel most at ease. Regardless of which state borders you cross, you won't be breaking any transportation laws that way.
Flying With a Firearm
TSA has had a reputation in the past for confiscating items, especially firearms and even pocket knives. No one wants to lose their AR-15. So here are a few key rules and notes to follow when flying with a firearm.
Declare any firearm in checked baggage at the ticket counter.
Firearms must be unloaded and locked in a hard-sided case, only in checked baggage, and you must retain the key or combination. (Do not use TSA locks)
For peace of mind, make sure you choose a case that has 2 to 4 points for attaching individual locks.
Rifle parts, including magazines and firing pins, are prohibited from carry-on luggage.
Ammunition may not exceed 11 pounds total, when being checked in it must be in its original packaging.
They prohibit ammunition in carry-on luggage.
Rifle scopes are allowed in carry-on or checked baggage.
If you're flying to a different state, make sure to check their state laws. i.e. if you're flying to New York, don't bring the gun altogether to avoid risk of gun confiscation or unconstitutional jail time.
Expect a brief inspection by an officer before you check in your rifle case.
Never use curbside check-in, do it yourself to personally confirm the rifle being checked in.
Picking Up Your Firearm
So far, we've never had any firearm misplaced so fingers crossed to continue that trend. When you step off your flight, head to baggage claim and look for the nearest airline office. There, you'll inform an airline employee that you're there to pick up your firearm. Give them a few moments and someone from the back, sometimes an officer, will personally hand you your firearm. It's a pretty secure process.
Before you leave the airport, ensure your rifle and any other gear or ammunition is still in the case. It is not uncommon for airline attendees to pilfer checked baggage goods, especially expensive rifles. Better safe than sorry!
No one likes the idea of losing their beloved rifle, especially one you built yourself using an 80% lower. Follow the guidelines above and local/state laws when traveling with a firearm, DIY or not, and you'll be fine.
Planning ahead in these uncertain times is not only smart but the responsible thing to do. If you're just looking into 80 percent lowers, know that we do have receivers available to help kickstart your new gun-building hobby!