Best Glock Types : A First Time Buyer's Guide
How many times have you heard "Dude, just get a Glock"? We know We hear about it all the time, and for good reason. The Glock brand is synonymous with gun culture, being featured in movies, music and all types of pop culture. It would be very difficult to find a person that has not heard the name Glock. So, which Glock should you buy? With so many models out there, this can be a difficult decision. Let's jump in and figure out which Glock is perfect for you!
Glock Pistol Background
In 1963 an Austrian engineer and businessman named Gaston Glock founded Glock as a manufacturer of injection molding parts and components such as shower curtain rods and rings. Later on in the 1970's Glock began producing military products such as knives, grenade casings and machine gun belt links. Fast forward to the 80's and Mr. Glock had designed his first pistol for the Austrian military. The unique aspects of this pistol outside of the polymer frame and high-capacity magazine were the three internal safeties.
Gaston Glock designed his pistol with trigger, firing pin and drop safeties - something never before done. The Glock 17 passed NATO's durability tests in 1984 and the rest is history for what is arguably the most popular handgun brand of all-time. Before we get too far into this, a fun fact is that the nomenclature for Glock handguns is the patent number. Let's get into the different generations of Glock!
Gen1 - 1982 - This gen included the Glock 82, 17 and 18. The 17 was the first Glcok to be designed and was a bare-bones service pistol. The 18 was a select-fire machine pistol. The 82 appears to be a one-off prototype for the 17.
Gen2 - 1988 - Variety of updates were added to the Glock 17, and the Glock 19 was introduced. Glock 22, 23 in .40 S&W, as well as long slide model 24 in .40 S&W added for competition shooters. The Glock 26 and 27 were introduced for law enforcement backup guns and concealed carry.
Gen3 - 1998 - These are Glock models still in production and are the base models for all Glock pistols made today. Notable changes are raised grip texturing, finger grooves, and the Universal Glock frame rail for weapon lights. Introduction of the Glock 46 in .45 ACP as well as 42 in .380 and 43 in 9mm models, Introduced the Glock 36 in .45 ACP and other long slide models.
Gen4 - 2010 - Introduction of the Glock Modular Backstrap System. Very few other difference to Gen 3.
Slimline Series - Slimline Glock models have features of multiple Glock generations, but are single stock Glock models. These are their own category of Glocks.
Transitional Models - These are designs meant for government contracts that include features from Gen 3,4 and 5.. This includes the Glock 19X, 17M and 19M. The 19X was a bid for the US Military that failed and was offered to the civilian market. The 17M and 19M are government contract pistols for law enforcement and the FBI that were not offered to civilians.
Gen5 - 2017 - Most significant updates ever added to the Glock line. Gen 5 saw the introduction of the Glock Marksman Barrel. Beefed up slides and frame widths changed, as well as new trigger system component, front cocking serrations, slightly flared magwell, and a revised frame texturing. The finger grooves were deleted and options for MOS slide cuts for optics have been added. Only available in 9mm and .40 S&W as of this writing.
Glock Calibers
With so many models of Glocks on the market today, it might be best to give a brief overview of the models available. Best bet for choosing your perfect Glock? Pick the best caliber for you and then see the models chambered in said caliber. Let's have a look at some popular ammo types and the Glock models chambered in them.
9mm Luger
9mm is one of the most popular handgun calibers of all-time, so it would make sense that many Glocks would be chambered in 9mm! The original Glock 17 was and still is chambered in 9mm. Other Glocks chambered in 9mm are the compact Glock 19, 45, 19X, subcompact 26, 43, 43x, 48 and the G34 Competition model. The Glock 19 is one of the best-selling handguns of all time, and it is also chambered in 9mm.
.40 S&W
.40 S&W is a very popular handgun caliber, and for a very long time, was the standard for the F.B.I., amongst other law enforcement agencies. It should be no surprise that Glock makes many weapons in the .40 S&W! The fullsize offering is the Glock 22, with the 23 as a compact and the 27 as a sub-compact. If you need a long-slide or competition handgun, you can choose between the 24 and 35.
.380 Auto
.380 is another option for a carry gun and Glock does not disappoint its devotees. Glock offers the 25 in a compact .380 and a 28 in a sub-compact offering. Need a small weapon? The 42 is a Slimline model, and is the smallest handgun ever produced by Glock!
10 mm Auto
10mm has become a popular option for handguns in recent times. Glock offers the 20, 29 and 40 chambered in 10mm. The 20 is a full-sized handgun, the 29 is a subcompact and the 40 is a competition gun.
.45 Auto
Old reliable .45 ACP. Glock offers several models in .45 ACP and several variations of some as well. The 21 covers the full size territory and the 30 (and variants) cover sub-compact. The 36 is the Slimline offering and the 41 is the competition size
.357 SIG
While .357 might not be the most popular caliber these days, Glock still gives you three options. The 31 is full-size, 32 is a compact, and the 33 is a sub-compact - all chambered in .357 Sig.
.45 GAP
.45 GAP. Ever heard of .45 GAP? Most people haven't. A little backstory here. In 2003 a collaboration between Glock andErnest Durham created a .45 round intended to replace the .45 ACP for law enforcement but in a size that could run in 9mm platforms. The idea was that officers with smaller hands could still shoot a .45 caliber round in a smaller gun. Unfortunately, though the .45 GAP was adopted by many agencies and delivered excellent results, too many gun companies began to make small 9mm platforms that could deliver the same stopping power with hotter 9mm loads. This caused .45 GAP to fade out a bit. Today Glock offers three models in .45 GAP; the 37 Full-size, 38 Compact and the 39 Sub-compact.
Top Glock Models
This section will go over 80% Arms' picks for the top Glock models. We'll go into more details in the sections below. These models were picked based on the current sales trends across the country.
G17

The original Glock and still a great choice for a full-size handgun, the Glock 17 is chambered in 9mm and has been one of the most widely-adopted duty pistols ever made.
G19

Cut down the Glock 17 into a more compact platform and you have one of the best-selling carry guns ever made - the Glock 19. Widely considered to be one of the most reliable carry choices, the Glock 19 should be something to look at if you need a "do everything" 9mm. Glock G19 Gen 4 MOS (MOS is an optic cut).
G21

If .45 ACP is your bag baby, then you will want to check out the Glock 21. This pistol is slightly larger than the Glock 17 and packs a punch! Utilization by multiple law enforcement agencies over the years have cemented the 21 in our list of best Glocks.
G27

Some of us prefer a smaller weapon for deep concealment and the Glock 27 is a great option. 10 rounds of .40 S&W is at your fingertips and this size is perfect for a pocket holster.
G43

Sub-compact 9mm fans rejoice! The 43 is a 9mm that is perfect for deep concealment and a pocket holster. The drawback to the Glock 43 is the 6 round capacity, so if the 43 is an option for your carry gun you may want to take a look at the slightly larger 43x for an additional 4 round capacity.
Glock Pistol Models & Calibers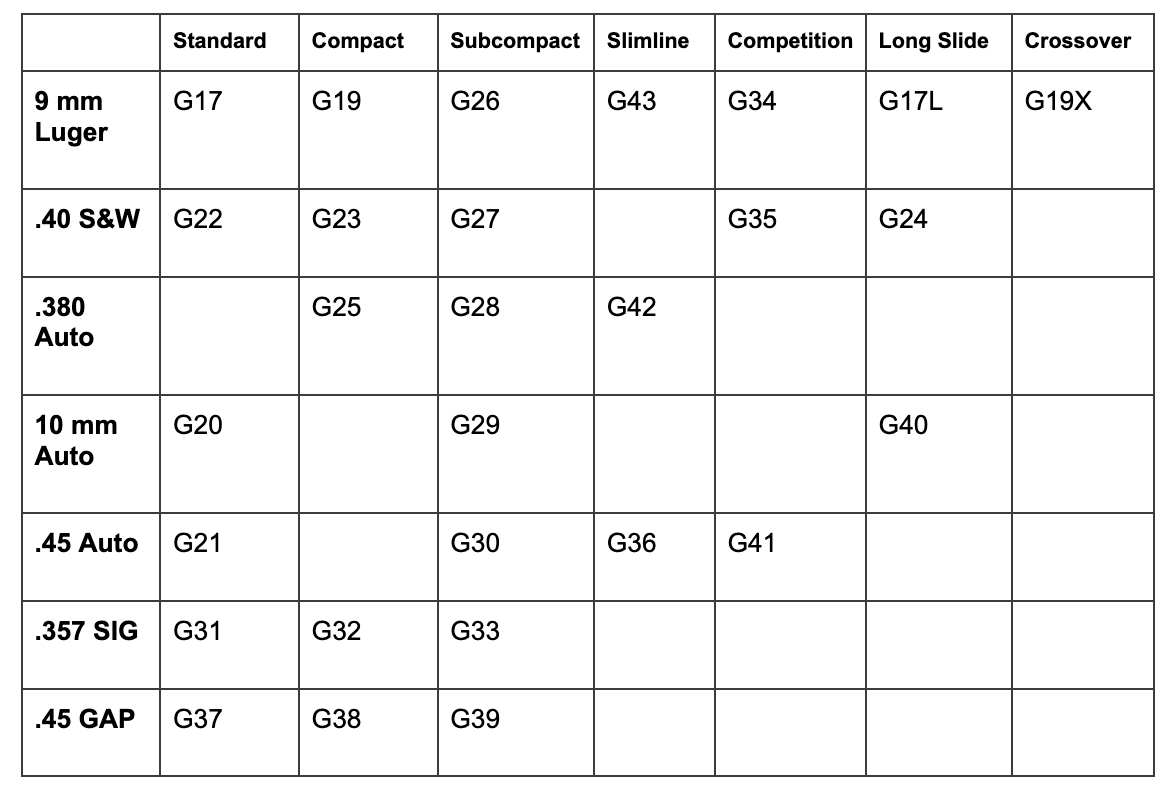 Choosing a Glock Pistol
We hope this was a helpful guide to choosing the perfect Glock for your needs! Regardless of which model or generation you end up going with, one thing that many shooters love about Glocks is how easy they are to upgrade! If you want something in the Glock vein but need something that is more unique - consider our GST-9 MOD1, it might be right up your alley! Thanks for hanging out with your buddies here at 80% Arms and we'll see you in the next one!