Glock Stippling: The Complete Pistol Stippling Guide
If you've ever found yourself wishing for a little more grip on a hot day with sweaty hands, wanting to make sure your hand sticks to your gun perfectly on that draw, or just wanting to make sure your Glock sticks out from all the others out there, Stippling is what you are looking for. Both fashionable, and functional, it's one of the easiest (and cheapest) upgrades you can make to your Glock to stand out at the range.
How to Stipple a Glock
Stippling is essentially burning a pattern into polymer material on your firearm. While there are loads of companies that you can send your gun to for a stippling service, this article is going to walk you through step by step on how to do it yourself.
What Can You Stipple?
Since you can only stipple polymer material, stippling is pretty exclusive to polymer handguns. There are instances where people will stipple grips and miscellaneous parts on AR's or AK's, but this article is going to focus on polymer pistols.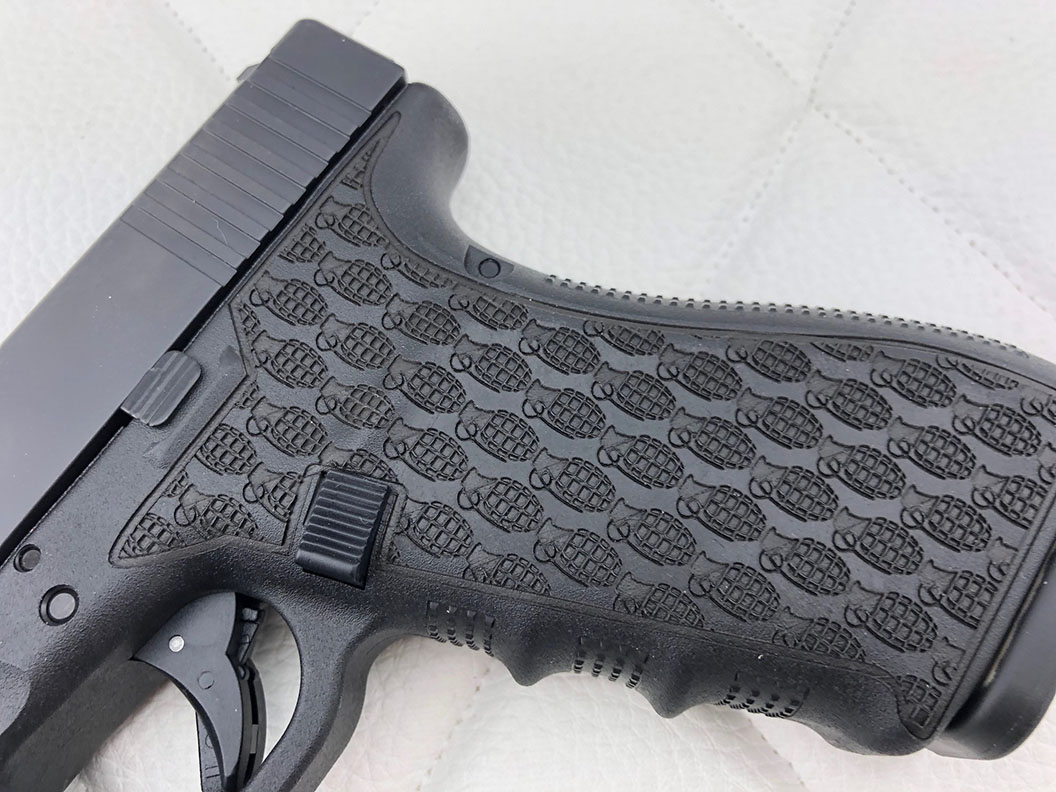 With modern laser stippling, the sky is the limit for creativity.
Why Stipple Your Glock?
There's a few different reasons to stipple, the main two being added grip and aesthetics. A lot of handguns come with pretty mediocre grip from the factory, leaving the consumer searching for aftermarket grips to apply to their handgun. Stippling is an effective, customizable, and permanent solution to this problem, and can also add a custom look to your firearm; really making it look one of a kind.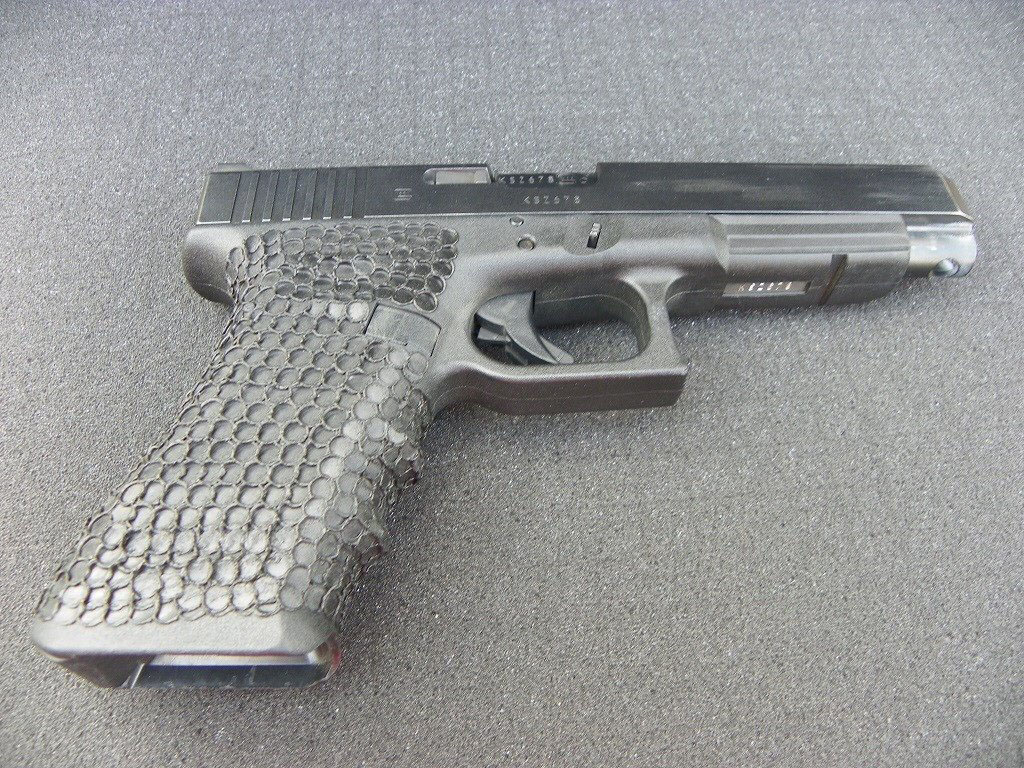 Not all stippling jobs are equal. RIP to this Glock after an overzealous owner overestimated his skills.
Considerations before stippling
Stippling can be a great upgrade to your handgun, but there are a few things one must consider before making this very permanent modification.
A) If you ever plan on reselling or trading your gun, stippling may lower the guns value if the customer doesn't like the applied pattern or level or grip. Stippling is very much done by personal preference, so your preferences might vary from others.
B) Stippling will void your warranty. You are modifying the structure of the firearm beyond repair, and if there is any catastrophic failure; do not count on any help from the gun manufacturer.
C) Possibility of ruining your firearm. Stippling literally melts the polymer of your gun, so if you are not careful when undergoing the process, you may go to deep, or melt something that shouldn't be melted. Though rare, you can permanently damage your gun.
D) Your gun could smell. This is a weird side effect of stippling, but it does happen on occasion. Because you are increasing the depth of the grip; things like skin, dirt, and other debris can start building up in the stippling pattern. As these debris start to break down, a smell will start to surface. While this is easily negated by cleaning your grip, it is a factor to consider.
E) I always recommend practicing on a sheet of plastic before just picking up your gun and going to town on it. You may have picked out a pattern that looks cool, but you don't end up liking the feeling of. Functionality and comfortability are always more important than aesthetics, so try to create your desired pattern on something first, to make sure you really like how it feels in the hand. Too much grip is almost as bad as not enough grip, as it will make range days uncomfortable, and your gun a pain to shoot.
Stippling Tools
It doesn't take much to stipple, and you can pick up the tools at any local hardware store.
A) Soldering Iron. Any cheap soldering iron will do, usually found for less than $10, this is an incredibly cheap upgrade to do yourself.
B) A Clean Workspace. You don't want any debris or grime getting in your polymer as you stipple, make sure you are doing this in a clean location.
Glock Stippling Patterns
If you can think of a pattern, you can stipple it. Different Glock Stippling patterns will grip differently, and grip harder on certain parts of your hand. If you have calluses on your hands from shooting, I would put a pattern on that grips hard to those specific areas. A few popular patterns are: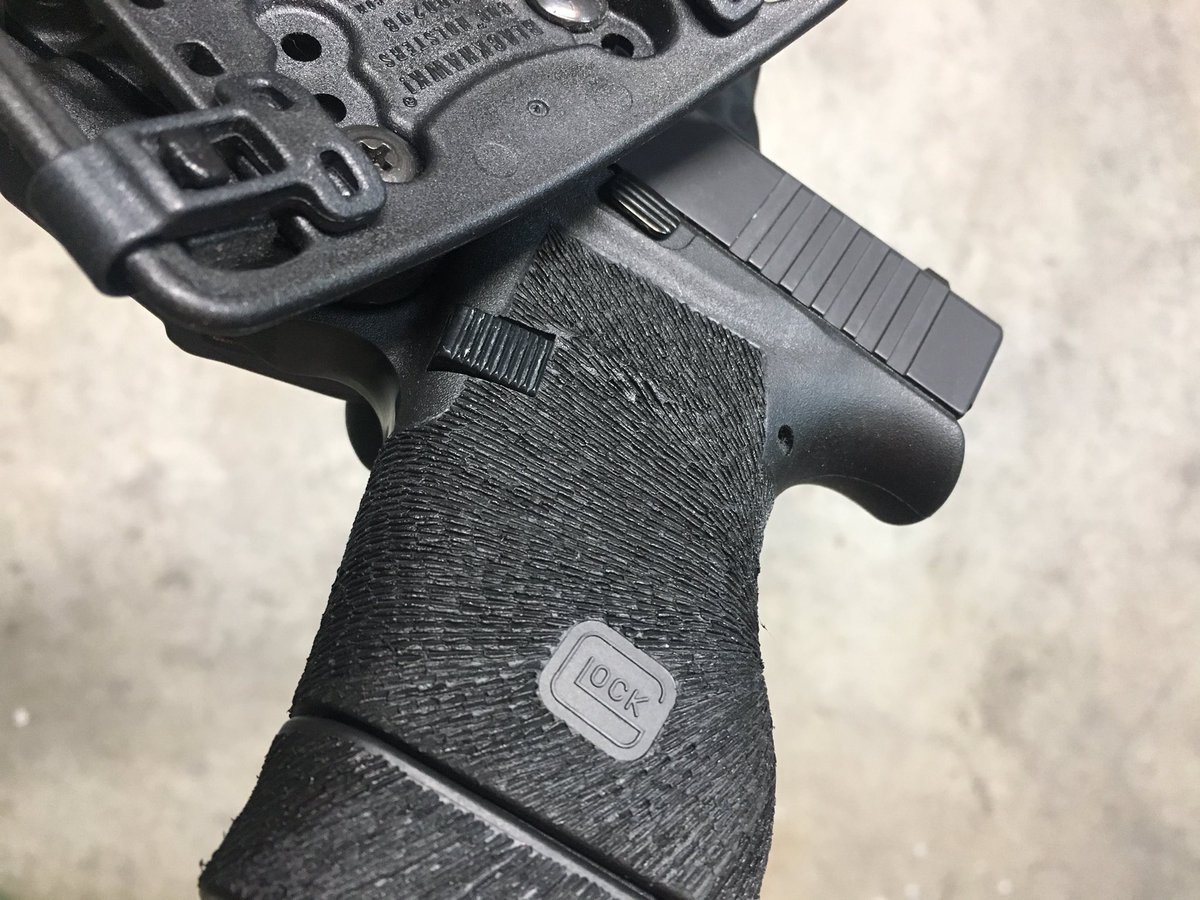 Photo Cred: Travis McIntosh
A)The Starburst Pattern: This pattern stems from one spot usually on the back side of the grip, and "bursts" out in straight lines. It offers a cool look, with a medium level grip.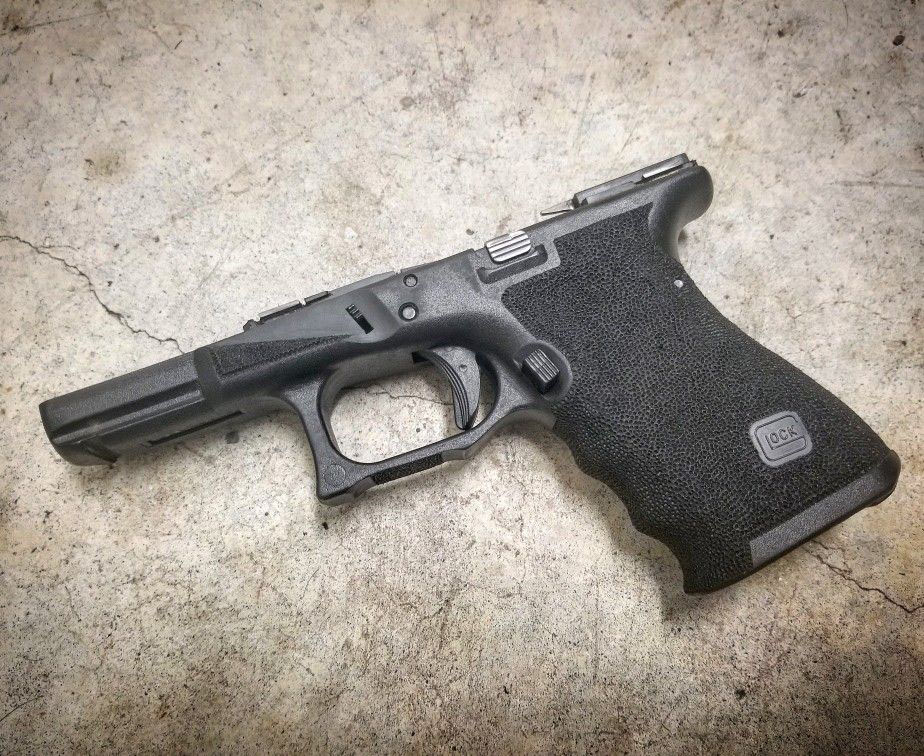 Photo Cred: Travis McIntosh
B)Random Dot Pattern: This is actually my favorite style of stippling simply because I like the look, and it tends to offer some of the best grip. You can vary the depth of the dots to customize the level of grip you prefer, and when coupled with a good outline; I think this pattern looks great.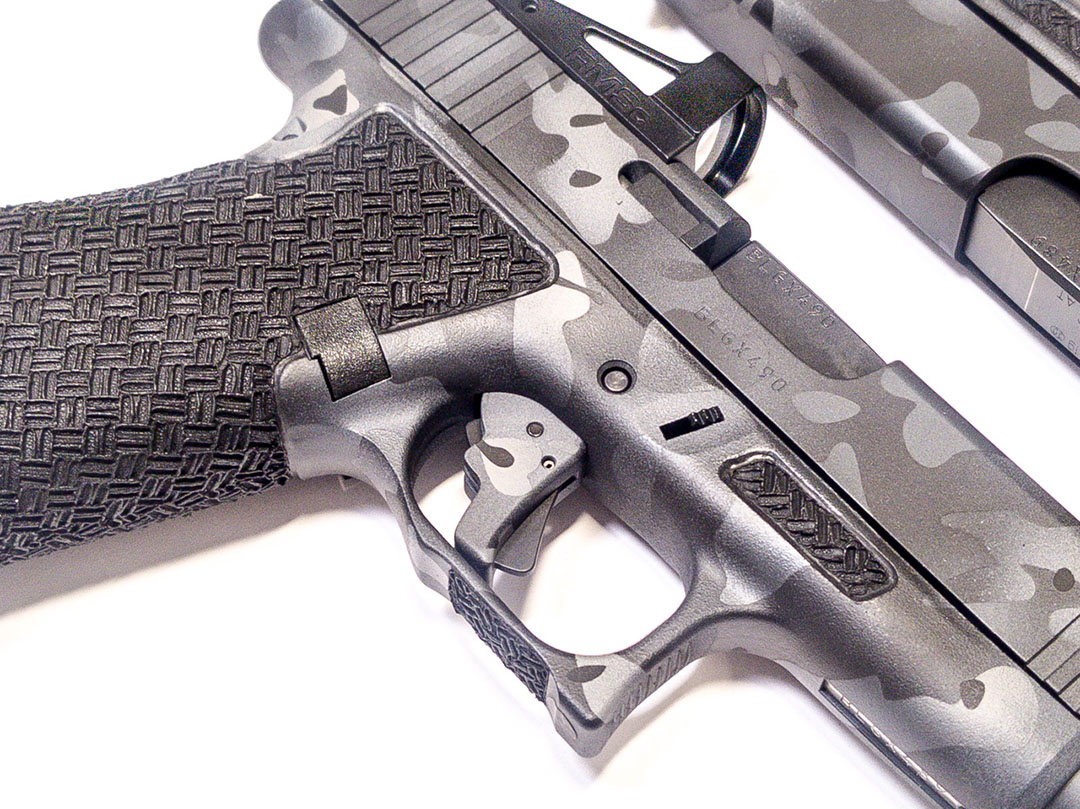 C)Basket Weave Pattern: This pattern is really popular, and actually offers really tough grip. I don't prefer the aesthetics of the pattern, and the pattern doesn't seem to agree with my preferred grip, but this is among the favorites of many.
The Stippling Process
Stippling a grip has evolved in the past several years to something done only by the most serious shooters in their garage with a hand-tool, to something now made accessible to anyone interested in improving the form or function of their firearm. Lasers and professional services are increasingly popular, but many shooters will still do it at home. Despite being time-consuming, many shooters prefer the DIY aspect of the project, and would prefer to work on their guns themselves.
Heating the Stipple Tool
By now you have your gun and pattern picked out, and you are ready to get started. Begin by heating your soldering iron to max temperature. If by chance the gun you are choosing to stipple has interchangeable back straps that you aren't using, test the tool on one of these. The polymer should melt easily without much force.
Outline First
It is a smart idea to create the outline of your grip first. This gives you a clear picture of what it is you want to stipple, and you have a higher probability of creating a clean, aesthetically pleasing finished product. If you want to get creative with the outline and add in some cool angles or edges then go for it! The cool thing about doing this yourself; you are completely in charge of what the finished product will look like.
Fill in the Outline
Working from the outside in, begin to create your desired pattern. Try to make the depth uniform, so the grip will feel the same through the hand. Be careful to not go too deep, as burning through your grip could be extremely detrimental to the function of your firearm.
Clean up the Edges
Once you are pleased with your finished pattern, go back and straighten up/modify any of your edges, angels, or outlines. This is the final step in the actual stippling process.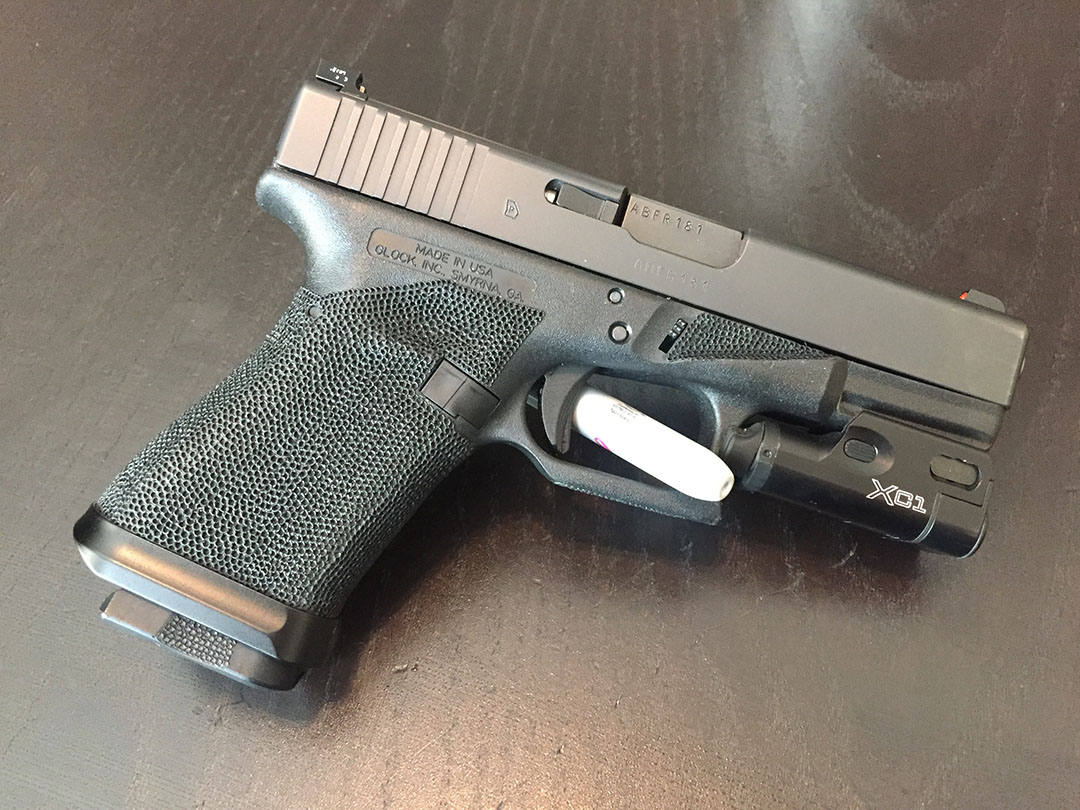 This dot pattern stipple took an afternoon, but it was time well spent for how well it grips.
Alternatives to Stippling
Because stippling is permanent, and has a small chance of disaster, people may opt for a less risky option. Skateboard tape has been used for years on grips, and while it offers great traction, it can be a bit too abrasive at times and does wear out after use. There are of course aftermarket companies that offer grips for virtually any make and model out there, so definitely do your research before you commit to stippling. If anything, maybe run some semi-permanent grips first, before deciding to commit to stippling. Talon Grips makes a great product, being both affordable, good looking, and effective.
Start Your Next Glock Build with 80% Arms!
80% Arms offers a wide variety of Glock 80% lowers, ready to ship to your door! Our new release of the GST-9 frame offers newly engineered ergonomics, and fantastic grip-mitigating the need for aftermarket grips or stippling. Read our post on how to disassemble a Glock or browse our selection today and get your new build started!