Often called the "Honda Civic of the gun world," Glocks are popular, solid handguns for shooters looking for a platform that can be easily modified to suit their individual needs. What the GST-9 does is adapt the most popular aftermarket modifications that many Gen3 Glock owners add to their lower frames into an 80% Glock style pistol frame.
Is the GST-9 MOD1 Worth It?
Two years after its predecessor's release, the GST-9 MOD1 is the latest iteration of our efforts to supply you with the means of exercising your right to defense. In contrast to getting a new Glock, going the route of acquiring the best 80% lower receiver on the market can save you the gunsmithing costs of getting your handgun how you want it.
Gas Pedals
One of the most key features that separate the GST-9 MOD1 from the GST-9 Legacy frame is the prominent gas pedal sitting beside the slide lock lever. These gas pedals departed from the staircase-patterned bevel pattern of the Legacy frame for a simpler curved ridge, a change to accommodate long durations of fire for users with large hands. Our gas pedals are shaped for the most effective retention without obstructing your holster.
Better control and overall retention of the frame
No snag on your gear and other equipment
Less weight and more durable than an aftermarket gas pedal
Rails
Likewise the Legacy frame's all-metal rail, the GST-9 MOD1's rail has been extended twice in length to that of OEM Glocks, increasing ease of slide installation. The GST-9 MOD1's rear rail has been made into two separate components to allow easier drilling during the milling process.
Easier to put on slide
Easier to align hole for drilling
Trigger Guard Undercut
Shooters can enjoy a natural higher grip with the single undercut beneath the trigger guard on our GST-9 MOD1.
Middle finger can be held closer to the trigger finger to form a tighter grip
No Finger Grooves
While the finger grooves can be advantageous for a better grip, they can be bothersome when they're not sized for your hand. Even Glock realizes this and goes on to remove finger grooves after generation 3.
Removes a feature not useful for most people
More suitable surface area for stipple jobs
Additional Picatinny Slots
Cutting your own additional picatinny slots into the underside of a Glock 19 frame or a Glock 17 frame is an arduous task. There is not enough material to extend the picatinny rail without touching the metal plate for where your serial number is typically engraved.
While there are aftermarket options to mount an additional picatinny plate over the factory Glock frame underside... these don't always provide a solid connection against the forces of being jostled around and the violent vibrations of recoil over time. Moreover, the glass-injected polymer material that ensures a sturdy picatinny rail contributes a noticeable weight to your handgun.
The GST-9 MOD1 is an 80 lower with the picatinny already shaped into the mold of the frame. No additional weight. No additional potential failure points from mounting solutions and we achieved this by reducing one picatinny slot from the Legacy frame's design.
Solid accessory rail with extended three folds over that of the Glock picatinny
No additional weight to the frame
Magazine Release Scallops
Our magazine release scallops are shaped aesthetically into the frame with tasteful subtleness.
Helps drop magazine especially for smaller hands
Factory Stipple Job
Stipple patterns are some of the features that are specific to user preference. We wanted to give a texture that wasn't too aggressive while still providing a good connection to the palm region and backstrap.
And of course if you're not satisfied with the texture not being aggressive enough, we've left plenty of material for you should you want to have your own stipple job done.
Substantially more traction than the factory Glock frame but not so much that it will destroy your belly if appendix carrying.
The GST-9 MOD1 Is A Frame With The Modifications You Would Already Want
Overall, these are features already included in the GST-9 MOD1 out of the box and can make quite the difference in your shooting experience. The textured channels of the GST9 gives your supporting hand's thumb and your shooting finger somewhere to really dig into the frame and assist your hand to feel its way under low light settings. Like the GST9 Legacy, the GST-9 MOD1's contour cut along the slide lock lever allows for easier field stripping than your typical Glock frame.
GST9s come in the staple flavors of black and flat dark earth with limited availability of olive drab green and white.
How Big Is the GST9 MOD1 Compared to a Glock?
The vast aftermarket for Glock demonstrates the power of modularity. Taking after the GST-9 Legacy, the GST-9 MOD1 offers interchangeable grip modules that make your GST-9 into a frame that can resemble the frame size of:
Glock 19
Glock 19X
However, with a combination of different slides and compensators, the MOD1 can also replicate similar lengths as the: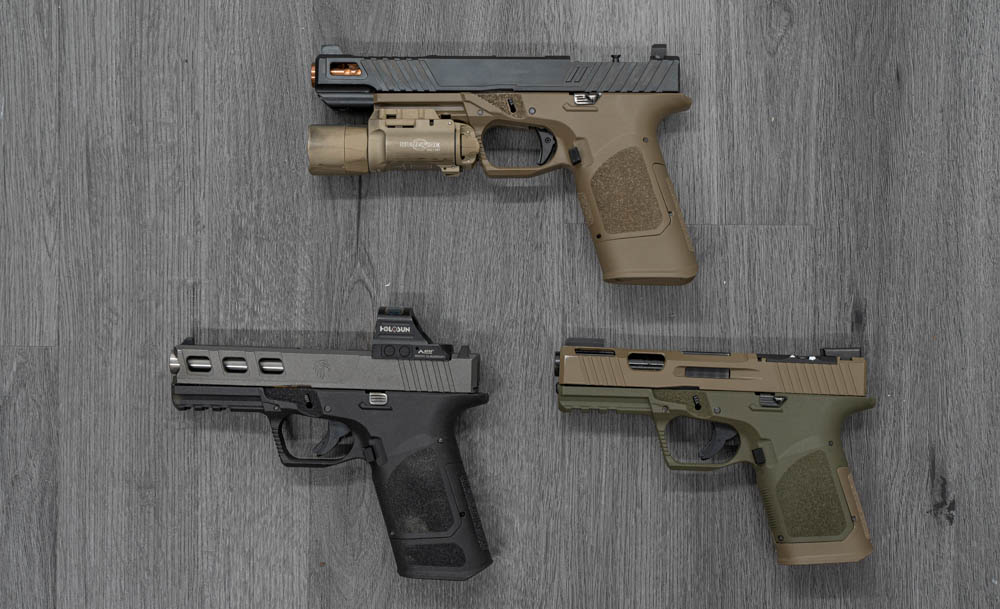 Glock 17 - (Can be achieved by using a G19L slide and the large grip module)
Glock 34 - (Can use G19XL slide or simply add a compensator onto a G19 slide)
This design allows the GST-9 to accommodate the hand size most fitting to its user, in either a compact grip style or a full size grip flavor. Grip modules are slid onto the frame's internal rail and pinned in place. Our parts' high tolerance ensures a tight fitting that will make the construction feel as if it was a single piece.
Gives user the choice of 4 different ways you can build out the GST-9 based on OEM model numbers.
Grip modules are made of the same glass polymer as the rest of the GST-9 MOD1 frame.
Solid fitting makes the grip modules feel as if it was molded onto the frame.
Is the GST-9 MOD1 a firearm?
The GST-9 MOD1 is not sold as a firearm and is not considered as one either (yet); it retails on our website as an 80% Glock style pistol frame. It is not subject to regulations as an FFL item currently and can be purchased as such online.
How to Mill Out a GST9?
To complete the frame into a finished receiver is a straightforward, simple process:
Remove the protruding tabs on the top of the frame and the tab blocking where the guide rod would sit. Do so with a pair of pliers and sand down the remaining material flush with the rest of the frame using a dremel, sandpaper and or a sharp knife.
Drill out the marked holes with the appropriate drill bits (4 mm and 3 mm) while using the GST9 MOD1 jig.
For a more detailed guide see the GST-9 MOD1 Manual here.
Additionally, our jig construction consists of glass reinforced polymer that is held shut with metal screws and nuts. Once secured, it is quite literally a brick and ensures no flexing or unnecessary movement during your drilling. Our jig's outer surface accommodates cutout windows for removing the aforementioned top tabs as well as indicators of which drill bit size to operate for the three sites that must be drilled out on both sides.
When buying the jig, you can expect to find a set of all the needed drill bits and CNC cut internal rails to finish your frame. Our extended rails are cut to high tolerance and finished with a slick nickel boron coating to provide quality durability and easier lubrication.
Can I Buy the Jig With A GST9?
The jig for our GST9 MOD1 must be purchased separately from the partially finished frame to comply with ATF regulations. What this means is that both the pistol frame and the jig need to be added to the cart separately but can be purchased in the same order once you're in the "Check Out."
Build a MOD1 From 80 Percent Arms Today!
There is value in keeping your factory Glock as OEM as possible for lots of reasons. Aftermarket modifications are not perfect and there is risk of even gunsmiths messing up your gun. Stipple jobs don't last forever as they can deteriorate with enough use over time. And while we never recommend selling your guns — if you do want to sell it in the future, like a modified car, it certainly doesn't add to its resale value.

Fancy picking up a MOD1 now? Why not build something that was meant to be modified per your preference? We have everything you need to finish your GST9 into a handgun you'll love. We offer fantastic trigger assemblies, barrels, and options for all your lower parts need. For further information on slides, feel free to check out our Custom Glock Slide Guide.