80% Lower Laws in Washington
*Updated April 26,2023.
Legal Disclaimer: The information in this blog is not legal advice. We are not lawyers. While we endeavor to keep all our blogs updated with the most accurate information, gun laws are ever changing and they can change quickly with little to complex differences in new legislation. Therefore, while we try our best to provide complete information, we acknowledge that everything you're reading below may change (or already has changed).
Do not rely solely on the information provided by us or on this website for your purchase decisions. To ensure that you, the buyer, are acting in accordance with all federal, state laws and local ordinances, please be sure to do your own research and consult an attorney if necessary.
To see where some or none of our products can be shipped to, please see our full list of sensitive states here.
In the eyes of local and state governments throughout the state of Washington, an 80 percent rifle or lower must be heavily regulated or outright banned. At least, that is seemingly their goal.
Here is what you need to know about 80% firearms in Washington:
What is an 80 Percent Receiver?
An 80 percent lower, blank receiver, or, as some critics refer to them as, "ghost guns," are not technically firearms, according to the federal government and the Bureau of Alcohol, Tobacco, Firearms and Explosives (ATF). Unfortunately, some states, including Washington, do not see it that way.

An 80% lower receiver is an unfinished and unserialized blank which requires some machining work from the end user to turn it into a 100% lower receiver, otherwise, what is legally considered as a firearm. 80 lowers are missing the trigger pocket and three holes that need to be milled and drilled out to be completed. Unless states have passed their own laws barring the possession or sales of 80% products; pending the ATF's updated decision from the ATF's new rule aiming to redefine what a firearm is including lower receivers and frames (2021R-05F).

As of now, 80% lowers are completely legal, federally not considered firearms and thus can be shipped straight to your front door. No FFL required (some states have made their own laws to restrict 80 percent products). To explore the 80 lowers we have to offer, check out our multiple lines of product.
Did Washington Ban 80% Lowers?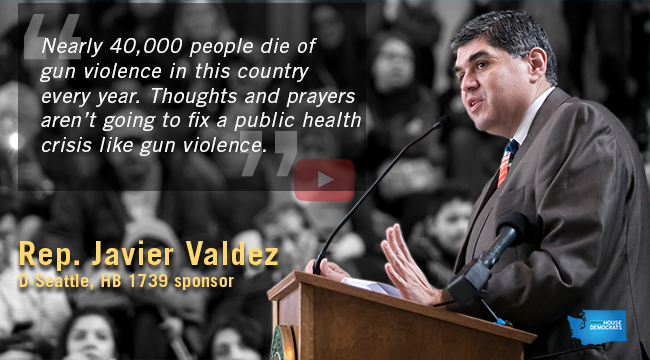 Well, neither will disarming law abiding citizens so they can't defend themselves...
On April 23, 2019, the state legislators passed a bill prohibiting the manufacture and sale of what they call "untraceable firearms," or 80 percent lowers turned firearms. Their goal is also to stop 3D-printed firearm schematics and firearms in Washington.
Washington's HB 1739 (2019)
The bill, known as HB 1739, was introduced on March 4, 2019. The Senate passed it on April 16. On May 7, the Washington Governor signed a law, which took effect on July 1, 2019.
This bill affects 80 percent lowers, polymer firearms, 3D-printed firearms, schematics, and the AR-15 as a whole. Here is what is the bill says:
"Except as otherwise provided in this section, it is unlawful for any person to:
(a) Manufacture, own, buy, sell, loan, furnish, transport, or have in possession or under control, any machine gun, bump-fire stock, undetectable firearm, short-barreled shotgun, or short-barreled rifle;
(b) Manufacture, own, buy, sell, loan, furnish, transport, or have in possession or under control, any part designed and intended solely and exclusively for use in a machine gun, bump-fire stock, undetectable firearm, short-barreled shotgun, or short-barreled rifle, or in converting a weapon into a machine gun, short-barreled shotgun, or short-barreled rifle;"
(c) Assemble or repair any machine gun, bump-fire stock, undetectable firearm, short-barreled shotgun, or short-barreled rifle; or
(d) Manufacture an untraceable firearm with the intent to sell the untraceable firearm."
WA House Bill 1240 (2023)
Due to the passage of House Bill 1240 by the Washington Legislature and Governor Jay Inslee signing it in to law on April 25, 2023 — unfinished frames or receivers (including 80 percent frames or receivers) and their manufacture, importation, distribution, selling and offering for sale to Washingtonians is now illegal due to their new designation of several firearms and related parts or products as "assault weapons."

To be clear, 80 lowers have been illegal in WA since 2022. What's new is that this latest string of gun control laws now restrict even common firearm parts, alone, to be considered as "assault weapons."
Are 80 Lowers Legal In Washington?
While 80 Percent Arms has a preliminary injunction issued from a federal court allowing us to sell 80% lower receivers and frames — which also protects us and our customers from the ATF's unconstitutional 2021R-05F rule... we are no longer shipping any products to the state of Washington as it is illegal to do so.

We understand that there are some lawsuits and legal battles currently in place to challenge HB 1240, but until that is completely overturned we cannot sell any products whatsoever to Washingtonians and apologize for any inconvenience this may cause.

Please note that what was specifically banned in 2019 through HB1739 was mainly 3D-printed or polymer based 80% AR-15 lower receivers. As far as the lower receivers and frames sold by 80 Percent Arms go, they had been legal to purchase and own per Washington state and federal regulations only up to June 30, 2022.
Originally, it was HB 1705 was passed and went into effect July 1, 2022 - which was when it became illegal to manufacture, assemble, purchase or sale of an unfinished lower receiver or frame in the state of Washington.
Do I Need to Serialize My 80 Lower in Washington?
If you wish to remain compliant with WA law and you have built out your own firearms starting with 80 lowers in Washington - you'll need to contact your local or state officials to find out what the legal process is to serialize your 80 percent lower receivers that were built out into 100%'s, if there is one at all.
Key Gun Laws in Washington
Please note that the last time we updated this section, it was in 2022. With the most recent anti-gun laws signed into effect in April of 2023, some of all of these laws may have been affected. Again, we are not lawyers and this information should not be taken as legal advice and cannot be 100% relied on as gun rights in Washington are extremely ambiguous right now.

But in general, other than laws regarding 80 lowers, these are the key gun laws you should be aware of if you reside in or are traveling through Washington.
Firearm Possession and Purchase Requirements
To purchase a handgun and a semiautomatic "assault rifle" in the state of Washington buyers must be at least 21 years old. No extra permits or licenses are necessary for the purchase of handguns or long guns. Washington's minimum age for possession of any gun is 21 years old. In the event a minor is in possession of a handgun the normal exemptions apply when minors have consent from their parents or guardian or if they are in direct supervision or presence of their parents, guardian or when attending a hunter's or firearms safety course, using the gun for target practice or recreational shooting at an established range, involved in an organized competition, hunting or trapping with a valid license, traveling to and from these events, or at their own residence with permission and supervision of a parents or a legal guardian.
All firearm purchases and transfers require a background check including private party transfers (Dealer Record of Sale also known as 4473 form or "DROS"). While federal law requires federal firearm license holders ("FFL's":) to initiate background checks on buyers prior to the sale of a firearm, federal law also allows states to serve as their own "point of contact" and conduct their own background checks via state, federal records or databases, as well as the option to use the FBI's National Instant Criminal Background Check System ("NICS") database. Washington is a full point of contact for the NICS and as a result, dealers must conduct their background checks by going through the Washington State Patrol and Department of Social and Health Services. Washington does have a mandatory waiting period of 10 days before buyers can take their firearm purchases home.
Open and Concealed Carrying
Washington is a "shall-issue" state for concealed carrying. Open carrying is also legal in Washington without a permit. Open carry is legal without permit for anyone who is at least 21 years old and legally allowed to possess a firearm. CCW's are offered in the form of a "CPL" or Concealed Pistol License. Some areas are off-limits such as public schools or federal buildings, be sure to do your research before going into areas you don't regularly frequent. CPL applicants must be at least 21 years old and there is no training class requirement. For more details on their concealed carrying policies see Washington's reciprocity map here.
NFA Restrictions
Machine guns and short barreled shotguns are illegal but suppressors and destructive devices are legal for residents in Washington to purchase and possess (provided it was done with the proper paperwork through the ATF). Please note that Washington state does have an " assault weapons" ban.
Magazine Capacity Restrictions
For now, there are no magazine capacity restrictions in the state of Washington. Enjoy those sticks, drums and belt-fed box magazines while you can!! Washington state senate just passed SB 5078 which will ban all standard capacity magazines. If you'd like to preemptively stock up, we carry plenty of standard capacity magazines like the Lancer Advanced Warfighter L5 mag which is a 30 rounder too. Our favorite color is the translucent smoke one.
Mandatory Storage Requirements
There are no mandatory storage requirements in Washington but you should still exercise caution because you can be tried for negligently leaving your guns accessible to children. If you need some good ideas or best practices for storing your guns and gear here are 5 ways to store your firearms at home.
Self-Defense
Washington state is not a castle doctrine state and doesn't have an explicit stand your ground law in place but the Supreme Court in Washington has consistently ruled that there is no duty retreat if a person is in a place that they are legally allowed to be when being assaulted and forced to respond with force for their own self-defense and defense of others. However, Washingtonians must be careful to note that they cannot use more force than necessary depending on the given situation — A response of "equal force" is necessary.
Ammunition Purchase
Washington state requires a license for dealers to sell ammo but licenses are not required for individuals who aren't dealers. Sales records do not have to be maintained. Purchase, possession and sale of ammo does not require a license. Essentially, all ammunition is unrestricted in Washington. Ammo does, however, need to at all times be safely stored separately from flammable materials by a fire-resistant wall of a one hour rating or by a distance of 25 feet. Online ammo purchases require buyers to be at least 21 years old but can be straight to your front door.
Do you ship to Washington?
We are currently no longer able to ship any 80% AR lowers, MOD1 frames or MOD1 jigs to residents in the state of Washington. We thank you for many years of business and your patronage. Unfortunately, Washington has grown incredibly hostile against our company and these specific products shipped to this state would fall under haphazard and intense scrutiny. You can still order accessories, some replacement parts and tooling though. Otherwise, if you're ever in Texas, give our new showroom a visit once it's ready and open in Fort Worth!