Easy Jig® Gen 2 vs. Easy Jig® Gen 3
For about 4 years, we have offered our Easy-Jig® Gen 2 as our flagship AR 80% Jig to the 80% builder community. Like its predecessor the Easy-Jig® Gen 1, it revolutionized the 80 lower jig market. And now, we've revolutionized the industry again with the new Easy-Jig® Gen 3.
What is an 80% Lower Jig?
According to the United States Bureau of Alcohol, Tobacco, Firearms and Explosives (ATF) an 80% receiver is, "an item that some may believe has not yet reached a stage of manufacture that meets the definition of "firearm frame" or "receiver" according to the Gun Control Act (GCA)." Since the ATF does not classify such 80% receivers as firearms, but rather as inert pieces of metal, we can ship them directly to your front door! Though some States and jurisdictions have their own restrictions, the vast majority of our United States view 80% receivers nothing more than paperweights.
So where does a jig factor into this? A jig helps you finish that last 20%, as easily as possible. It's essentially a stencil that you insert your 80% receiver into so you know where to mill and drill on the lower to bring it to a fully functioning firearm.
Easy Jig® Gen 2 vs. Easy Jig® Gen 3
Easy Jig® Gen 2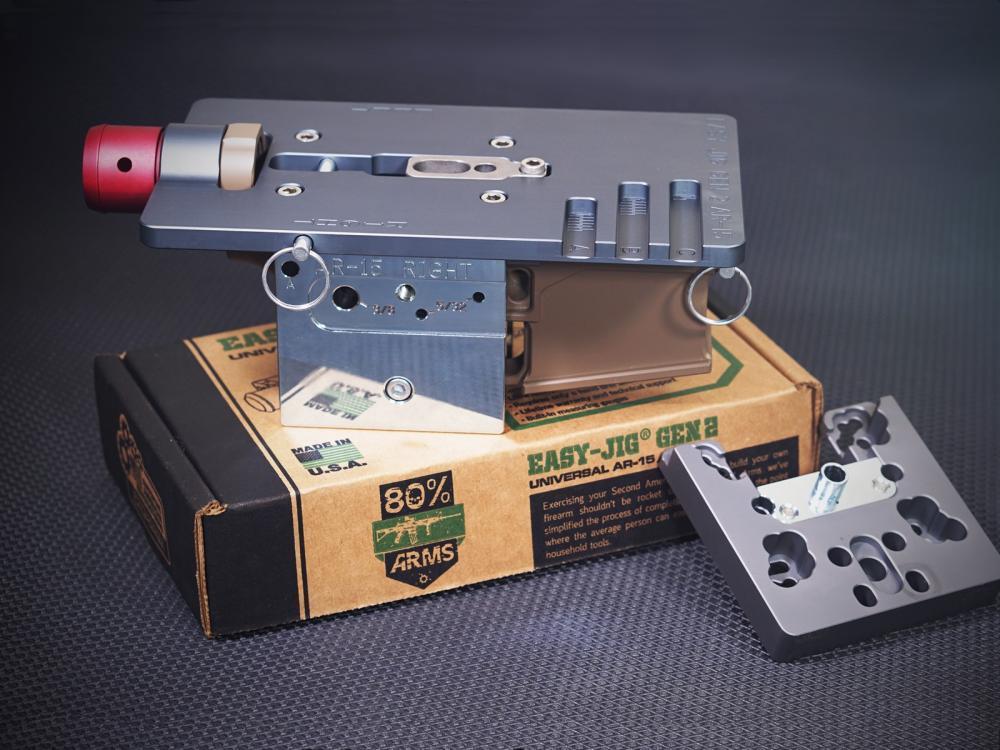 At the time of it's release, it was up to 4x faster than any competitors.
Following the success of our Easy-Jig® Gen 1, in 2016 we released its successor the Easy-Jig® Gen 2. For the last 4 years, our Easy-Jig® Gen 2 has served in our outstanding and supportive customer base's workshops and garages all over the country as the starting point of many exceptional AR style builds.
Why it was the best
Our Easy-Jig® Gen 2, particularly the "Multiplatform" variant, introduced new revolutionary features to the 80% AR Jig market.
The 1 pilot hole design was the biggest leap forward. Prior to machining a receiver with a router, most 80% receiver jigs require the user to drill a series of pilot holes. And depending on the jig, completion times could be up to 8 hours (nope, that's not a typo. ALL DAY.)
Introduced with our Easy-Jig® Gen 2, our single pilot hole design was a smash-hit. This design significantly streamlined the machining process of an 80% receiver and reduced the machining time required to about two hours. Being four times faster than the competition, it just about sold itself.
Where it was lacking
Like with every mechanical design, there is always room for improvement.
Our Easy-Jig® Gen 2's side plates were manufactured completely from aluminum, and for customers who weren't using a drill press, and weren't careful, they could potentially damage their side-walls. So we created an add-on product called Hand Drill Stabilizers wich gave customers some hardened steel attachments to give them longer lasting sidewalls, and the ability to drill with whatever they had on hand.
Our Easy-Jig® Gen 2 system utilized a 5/16" carbide endmill with a ¼" shank step-down. This endmill could be inserted directly into the collet of the user's router. While this system is straightforward with universal compatibility, it did have some shortcomings. Most notably, the long and unsupported nature of the endmill made it more prone to breakage if used incorrectly, or too firmly.
Easy Jig® Gen 3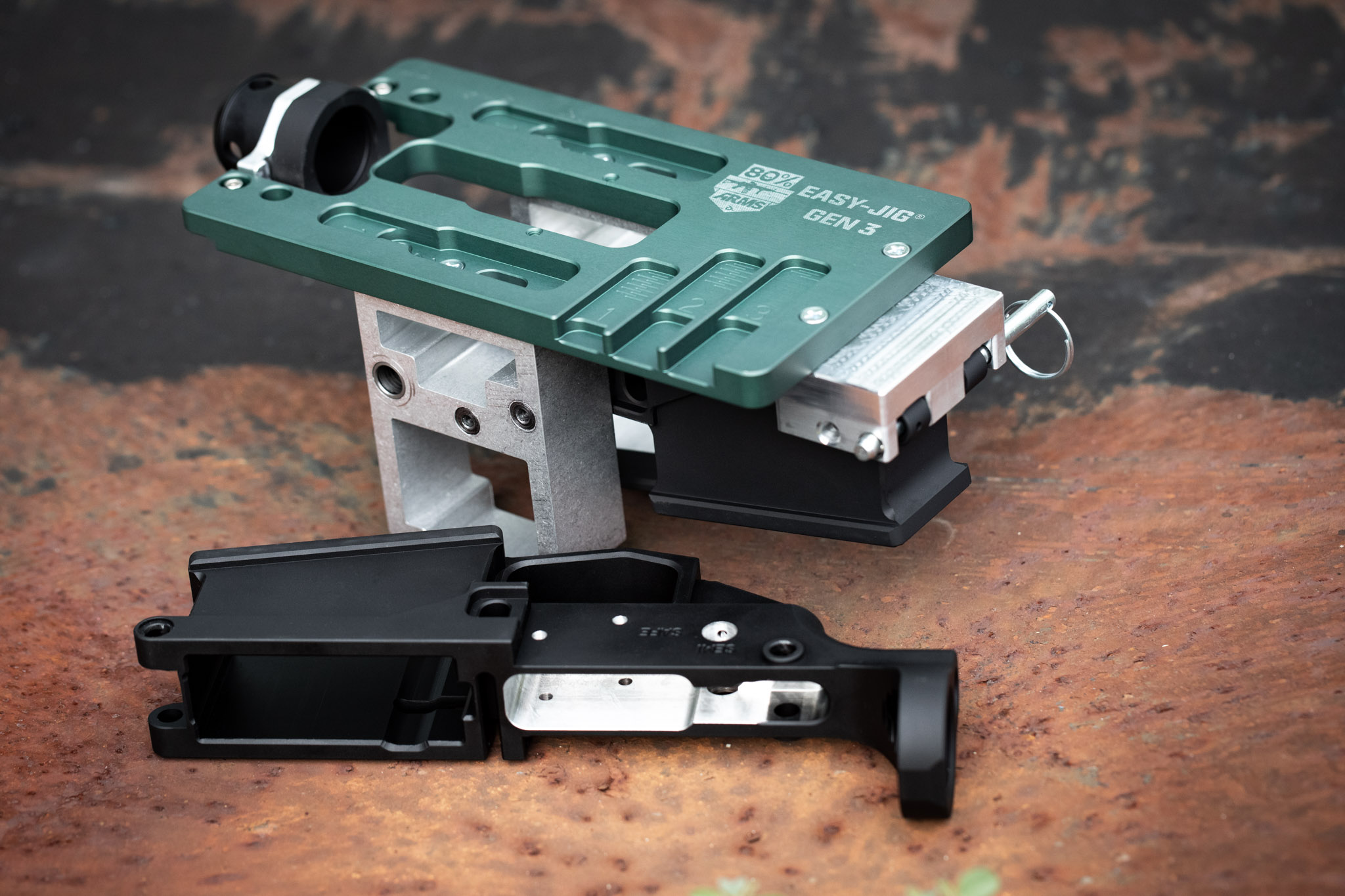 A good looking jig that gives you CNC quality results. Check out that trigger pocket reflection.
Improvements Made
With our extensive customer feedback, in-house testing, and engineering, we released the Easy-Jig®Gen 3 in October of 2020.
The side plates of our new jig now include one of a few new features, hardened steel bushings. Unlike our prior Easy-Jig®Gen 2, there is no need for an add on product to fortify or strengthen the side plates. The new hardened steel bushings take the brunt of the drill wear off of the side plates themselves during use as well as assist in keeping the end user's drill bits straight while drilling.
Perhaps our most innovative and robust feature of our new Easy-Jig® Gen 3 is our SpeedMill system. Unlike our previous Easy-Jig® Gen 2 that utilized 5/16" carbide endmill with a ¼" shank step-down, our SpeedMill is a 2 part unit that is composed of a short 5/16" carbine endmill thermofit into a threaded steel housing. This SpeedMill unlike a standard endmill screws directly onto the user's router's spindle instead of being inserted into the router's collet. A benefit of this direct connection to the spindle is the elimination of the possibility of the endmill slipping while machining a receiver. Another benefit of the SpeedMill's design is its robustness. Since a significant portion of the endmill installed in the SpeedMill's housing is secured within, the chance of snapping or accidental breakage has been drastically reduced.
Ease of Use
Like the two models before it, our Easy-Jig® Gen 3 lives up to its name and is the easiest jig out there by far. With dual guide-pins assist the router path, and a measurement system cut into the top plate, it's never been simpler to make sure you're cutting exactly what you need to. And, with the introduction of our " All You Need Kits", we've even taken the thinking out of what you need to buy.
Quality Results
You can achieve factory level results with the 80% receivers you mill, starting from your first one! We've taken the work out of it, so you can enjoy the process and results.
Durability
When you're dealing with power tool and flying aluminum shavings, durability and lifespan is always a relevant question. We've toughened up the entire system to make sure that our jigs will last you a lifetime.
The carbide endmill installed in our SpeedMill's housing never makes contact with jig, avoiding all surface wear, and is supported on the sides to make it more rigid and durable for increased feed-rates.
The SpeedMill is supported by premium quality bearing with extended service life installed in the jig's Router Adapter Plate, so it is ready to mill antire boxes of receivers!
The Drill block used when drilling the pilot hole of the receiver is made with hardened steel!
Finally, the new hardened steel bushings take the brunt of the drill wear off of the side plates themselves during use as well as assist in keeping the end user's drill bits straight while drilling.
The Easiest Jig Ever
Though these may be uncertain times we are living in right now, we can take comfort in the things and people we know and count on. As an American family owned company, we want our customers to count on us to make and offer the best 80% jigs and receivers on the market. Our newest jig is the amalgamation of experience, customer feedback, engineering, and passion. We can say with conviction that by purchasing a Easy-Jig Gen 3 you will be a proud owner and user of the best and easiest 80% AR jig made to-date. We can guarantee that, 100%.
Want to Learn More?
Check out the: