GST-9 Calibers and Builds
If you're in the know then you know that 80 percent Glock-style frames have been in the news quite a bit for the past few years now due to ATF and anti-gunner shenanigans. We're among only a handful of companies that have stood up against the tyrannical agency and have SUCCESSFULLY won an injunction from a federal court that protects us from the ATF's ridiculous rules about wanting to classify 80% lowers as firearms.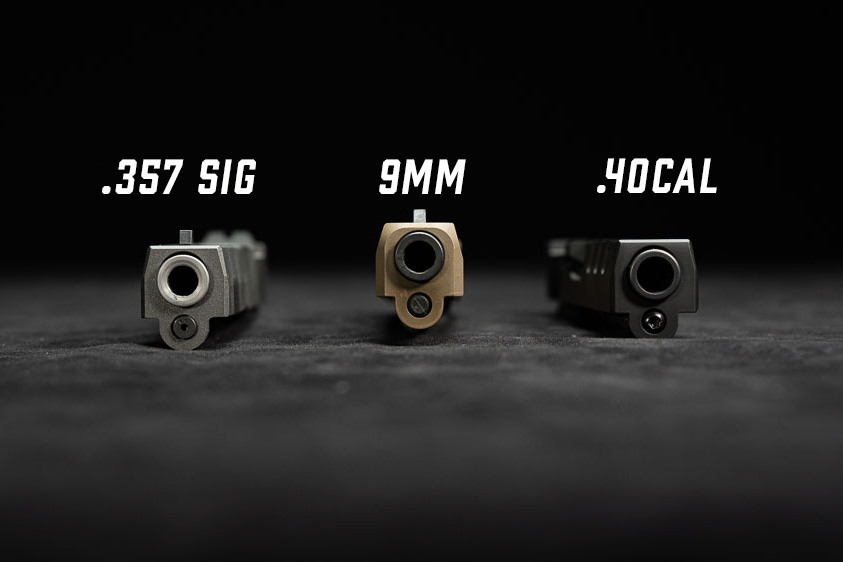 Today, we're reviewing all the ways you can build out your GST-9 MOD1 frame and will explain how certain methods of building these out may mimic Glock® OEM models, including multiple calibers.

First, a legal disclaimer:
Unless specifically noted otherwise, products mentioned in this blog are not authorized, endorsed, manufactured or warrantied by GLOCK. GLOCK does not guarantee that these products are compatible with GLOCK pistols.
"GLOCK" is a federally registered trademark of GLOCK, Inc. and GLOCK Ges.m.b.H.. Neither 80 Percent Arms nor this website are affiliated in any manner with, or otherwise endorsed by, GLOCK, Inc. or GLOCK Ges.mb.b.H.. The use of "Glock" on this page is merely to advertise the sale of GLOCK-style pistol frames, components and aftermarket parts that are compatible with Glock products. For additional genuine GLOCK, Inc. parts and products please visit www.glock.com.
9mm Builds
These are all the ways you can build out your GST-9 MOD1 using 9mm configurations which will consist of four main lengths that builders can emulate (with Glock® OEM models in mind).
G19 Style
First up is one of our most popular build out methods: the G19. The GST-9 was designed to be compatible with all Gen 1-3 Glock®19 parts and accessories so if you simply use any one of our slides (The Wraith, Shadow, or Casper) and the compact grip module - you'll have similar dimensions as a G19. And yes, the GST-9 can accept OEM G19 slides as well.
Please note that our billet grips still help shooters maintain a G19 size profile as the 15 round mag sits flush with those grips.
G19X/G45 Style
Without changing your slide setup, if you install the large grip module, your frame will now have a profile that is similar to a G19X or G45. For those running large grip modules, you'll need 17 round mags which will sit flush with this grip. Of course, stick mags will work as well regardless of which grip you choose to use.
G19L/G17 Style
Here's what confuses a lot of customers: People want G17 profile builds, totally understandable. What you need to know is that you have to use G19 parts in order to achieve G17 length. G17 slides and barrel will not work on any GST-9 frame. There's two ways to go about this. Here's the first route - You'll need a G19L slide and a G19L barrel. Companies like Brownells, Zaffiri Precision and ZEV offer these parts. Once you have your G19L barrel and slide, pair that with your GST-9 frame with a large grip module and you now have a G17-like MOD1 build.
Another route you can consider is to run G19 parts but use a compensator to extend the "slide length." If you use Radian's Ramjet and Afterburner combo like in the photo above the length is extremely close to what a Gen 3 G17 is. To be sure, we measured them out:
GST-9 MOD1 Build w/ Wraith Slide and Radian Ramjet + Afterburner: 7.5"
GST-9 MOD1 Build w/ ZEV G19L Slide: 7.38"
Glock® Gen 3 G17 Slide Length: 7.32"
G19XL/G34 Style
Often causing similar confusion for those wanting to build G17 length GST-9's, are those wanting a G34 type build. We've found three reliable ways to either reach the same slide length that an OEM G34 is or it will at least get you very close.
Builders can either choose to buy a ZEV G19XL barrel and G19XL slide (easiest method) to call it a day, or you can opt for a muzzle device to get to that length. However, you do not need to buy a brand new slide if you don't want to. Plenty of muzzle devices have a form factor that reach the G34 length which can be found in the "Roland Special" or other companies such as KKM, TRBC, etc. Two muzzle devices that we're big fans of include the Strike Industries Mass Driver and the Agency Arms Comp which has a Single and a Dual Port option.
GST-9 MOD1 Build w/ Wraith Slide and Strike Industries Mass Driver: 8.16"
GST-9 MOD1 Build w/ Wraith Slide and Agency Arms Dual Port Comp: 8.125"
GST-9 MOD1 Build w/ ZEV G19XL Slide: 8.17"
Glock® Gen 3 G34 Slide Length: 8.15"
.40 S&W Builds
If you'd like to shoot the GST-9 MOD1 using .40cal, you certainly can! Just need to grab the right parts to make it happen. Namely, you'll need the 1882 ejector on your trigger housing. (We currently don't carry this ejector on our site so you'll have to buy this elsewhere). Don't forget to buy .40cal Glock® mags too.
G23 Style
The G23 is essentially a compact size frame and a G19-sized barrel/slide that shoots .40cal. In order to do this, it's actually quite easy. You'll need to buy a G23 slide, a G23 barrel and change out your ejector (likely marked 336 or could also be blank) for one that is marked 1882. This ejector will work for .40cal and for .357SIG caliber ammunition.In fact, you can take advantage of the GST-9 frame's large grip module to have a G23X of sorts (mimicking the G19X, essentially a compact slide length with a full size frame).Unless you already have a G23 OEM slide, we actually found it quite difficult to find an aftermarket G23 slide. Luckily, we found one from Rock Slide USA.
G22 Style
The OEM G22 is essentially a full sized, or G17-like frame, except it shoots .40cal. But because G17 slides and barrels will not work with the GST-9 frame, neither will G22 slides or barrels. Similar to the G17/G34 length builds we'll have to use compensators to reach a G22 slide length. We have not tried this build configuration but there are ample Glock®.40cal compensators on the market for you to experiment with such as the comp from TBC.
.357 SIG Builds
If you're into unique unicorn builds and want to shoot .357 SIG through your GST-9, you can do that too! Just need to grab the right parts to make it happen. Again, you'll need the 1882 ejector on your trigger housing.
G32 Style
The OEM G32 is a compact, G19-like sized pistol, except it shoots .357SIG. A rare breed indeed. If you're all about uniqueness, then this build is definitely for you. By combining a large grip module and a G32 slide, you get a G32X profile of sorts (similar to G19X). Don't forget that you'll need to buy Glock®.357 SIG magazines as well!
G31, G33 Style
Since the .357 SIG round is smaller than .40cal, you can actually use .40cal muzzle devices like brakes or comps to achieve a longer build length (similar to how we got to the G17 or G34 lengths).

Build Your GST-9 With 80 Percent Arms Today!
Do you need a new carry gun? Are you planning on competing in USPSA soon? Need a new range gun? Start your build today! We have everything you need to have an incredibly cool experience and high performing gun after you break it in. If you grab our brand new Infinity Jig, you'll be able to build as many GST-9's as you want!