How to Properly Grip a Pistol
When it comes to shooting a pistol, it's all in your hands- literally. Your pistol will react differently to its recoil depending on how you grip it. Having a good grip is one of the most important fundamentals when it comes to shooting. You can have a great stance or high end optics, but if you're not properly gripping your pistol, you may be missing half of the shots you're making.
The Combat Grip/Thumbs Forward Grip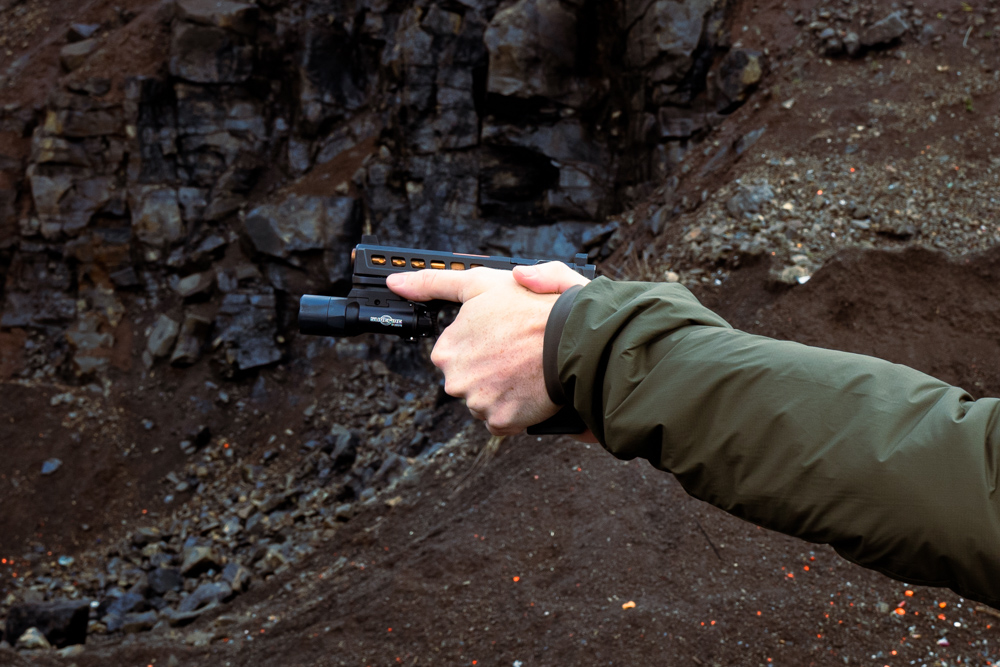 There are many different methods to grip your handgun, and they aren't all correct but, we are going to teach you the most efficient method to grip your pistol. This is the most common shooting method and it's used by many professional shooters. In 3 easy steps we are going to show you how easy it is to grip your pistol like a pro.
Step 1:
Before you start, make sure your handgun is clear and always assume it is loaded-even after you remove the magazine and clear it. Also, always make sure you are pointing your firearm in a safe direction and that you're in a safe environment. It is very important that you do this while we practice some dry fire exercises.
Step 2:
To get the best results with shooting, it should always be done with two hands when possible.
Grip your firearm with your dominant hand. While gripping your firearm you want to make sure you have a high grip, meaning the webbing of your thumb and index finger is as high up as possible on the beaver tail or back strap. Doing this will help control the recoil of your pistol.
Your last 3 fingers should wrap just under the trigger guard and around the base of your pistol. Finally, your thumb should be resting on the left or right side (depending on your dominant hand) just right under the slide and in the grip area. Also always make sure your trigger finger is off of the trigger unless you are ready to shoot.
Step 3:
Take your other hand and wrap your index, middle and ring finger over your dominant hand. Make sure you are using your non dominant hand to fill up any exposed space your dominant hand is not covering. This will help with controlling recoil.
Now, using your non dominant hand, wrap your thumb around the joint of your dominant thumb. Grip tightly, but not too hard- the best way to do this is grip your pistol as tightly as possible and once you are squeezing and the pistol is starting to shake in your hand, release some pressure to the point where you are no longer shaking but still have a firm grasp. That is your ideal grip.
Step 4:
Again, it is very important that you make sure your firearm is cleared and that you're in a safe environment for this step.
This grip may feel uncomfortable or unnatural at first so it's best to practice and gain familiarity with this grip before shooting your pistol.
Once you have a firm grasp using this grip method and your grip looks identical to the photo above, using your dominant hand, move your index finger to the trigger and pull. Rack and repeat these steps to gain familiarity with this grip before you head to the range. Also, while you are dry firing it is important to make sure you're maintaining a high and tight grip.
It is also important that you own a handgun that has a comfortable grip to hold on to. Our GST-9 is a great option, due to its interchangeable grips, it makes it an ideal option when it comes to firearm training.