How to Travel with a Firearm by Car
The holiday season may be over but that it's just a matter of time before another one comes around. After all, 2020 was pretty much a blur. Let's say you want to visit family, but you do not want to leave behind your trusty AR-15. What are your options? You could lock it in the safe, but then we're back to square one. Instead of leaving behind your rifle, the only real option is to travel with your firearm. But how?
As many firearm owners learn firsthand, traveling with a weapon can be complicated. The first time is always the scariest. Airports, TSA employees, and police officers can be overzealous. They see a rifle; they draw their sidearm, and your hands fly into the air.
We aim to help you avoid that mishap altogether.
Federal Law
Thanks to federal firearm laws, you are legally allowed to travel across state lines with your firearm, according to US Code 926A. But follow the regulations to the letter, of course.
"Notwithstanding any other provision of any law or any rule or regulation of a State or any political subdivision thereof, any person who is not otherwise prohibited by this chapter from transporting, shipping, or receiving a firearm shall be entitled to transport a firearm for any lawful purpose from any place where he may lawfully possess and carry such firearm to any other place where he may lawfully possess and carry such firearm if, during such transportation the firearm is unloaded, and neither the firearm nor any ammunition being transported is readily accessible or is directly accessible from the passenger compartment of such transporting vehicle:
Provided, that in the case of a vehicle without a compartment separate from the driver's compartment the firearm or ammunition shall be contained in a locked container other than the glove compartment or console."
Safe Travels
First and foremost, ingrain The 4 Essential Rules of Firearm Safety in your mind prior to any firearms handling, master and novice alike, there is no such thing as being too safe.
Concealed Carrying in Your Car
This is a big topic and one many people have questions about even if they are not permitted by their state to legally carry a concealed firearm. Let's first define what it means to "conceal" a firearm. Concealed means hidden out of sight, whether in a vehicle or on a person. Here is where the water gets a little muddy for some people, is it illegal to conceal a firearm in the trunk if I don't have a concealed carry permit/license? The answer is no, it's not even considered concealed if it is secured outside of "lungable areas" in a vehicle, which means the firearm is not readily accessible to the occupants. For more information on this topic and firearms safety training, find a State Certified Concealed Carry Instructor in your state.
How to Travel with a Firearm
The first objective to tackle is the safe storage of firearms; in a vehicle, airline travel, and in a hotel. There are as many options for the safe storage of firearms as there are grains of sand on the beach.
Let's talk about what is available for vehicle first. Vehicles are not theft proof but you may not always be able to carry inside every rest stop on your trip so it is imperative that you secure your firearm in a way that it can not be grabbed quickly and easily. Many safes on the market intended for vehicles simply use a wire cable attached to a seat frame and the safe as a deterrent such as the Stalwart Portable Gun Safe Top Opening Personal Steel Travel Combination Lock Box, which is fine considering it eliminates the element of ease of access. If you are looking for something that will withstand a few hard cuts, you might want to check out something along the lines of the Bulldog Car Vault Lockbox with Keylock and Mounting Bracket, which bolts to the floorboard.
You may be looking for someway to keep your gun safely close at hand while driving without having it locked under the seat or on your body, something like a car gun holster. Well, you'd be in luck because there are dozens of innovative designs that allow for access and safety such as the Vehicle Console Holster from Discrete Defense Solutions. Or maybe you are looking for something a little more versatile that can be used as a truck gun holster or a secure mount for a desk gun, check out the Magnetic Gun Holster from Quick Holster.
Driving With a Firearm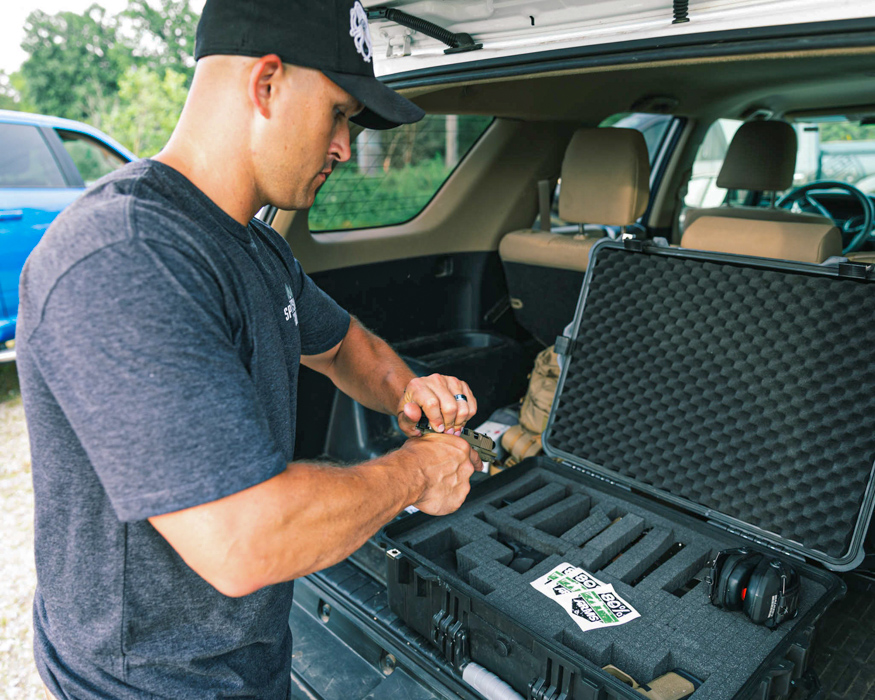 In layman's terms, you must have a license to own and carry firearms in your home state, lawfully possess a gun in the state you travel to, and you may not travel with a loaded firearm. Also, you cannot travel with a gun within easy reach. Further translation for handguns: if you have a concealed carry weapon permit (CCW) that will allow you in some states to carry it loaded on your person, in a reachable bag, or in your glove compartment box. Please make sure to check a carry reciprocity map to see which states honor your license and which don't.
For any firearm in general not being used in a concealed carry setting, firearms are best kept unloaded in a case separate from magazines, ammo, and locked in your trunk. If you opt for a soft case the method to lock your firearm would be to use a gun cable. The technical and legal distance to keep your firearm away from you in the vehicle is anywhere not within reaching distance. If you want to put one in the backseat that is fine but in the event you get pulled over by a police officer you'd rather have the gun in the trunk to make the officer feel most at ease. Regardless of which state borders you cross, you won't be breaking any transportation laws that way.
Can You Bring a Gun into a Hotel?
Here is yet another example of one size does not fit all. Depending on where you are traveling to and planning on staying may determine the legality of firearms on the premises. On one hand you have some state laws stating that a hotel is considered a temporary dwelling space therefor you can possess and carry as you would at home (in your assigned room). On the other hand, the business may not allow firearms on the premises. This is why planning and research is so valuable when taking a trip to an unfamiliar place. If they do allow it, a strong suggestion is to not leave your firearm unattended in your room when you are not there, even if you rented a car, get a vehicle safe.