What is a Stripped Lower Receiver?
What Are AR-15 Stripped Lower Receivers?
Before we talk about stripped lowers, let's first discuss what a lower receiver actually is. In terms of firearms; the lower receiver is the frame that incorporates internal components such as the trigger assembly and safety controls, as well as holds the magazine. For AR15's, the lower receiver is the only serialized component, thus considered the actual firearm. When talking about stripped lowers, the term simply refers just the lower receiver itself, without any of the previously mentioned components.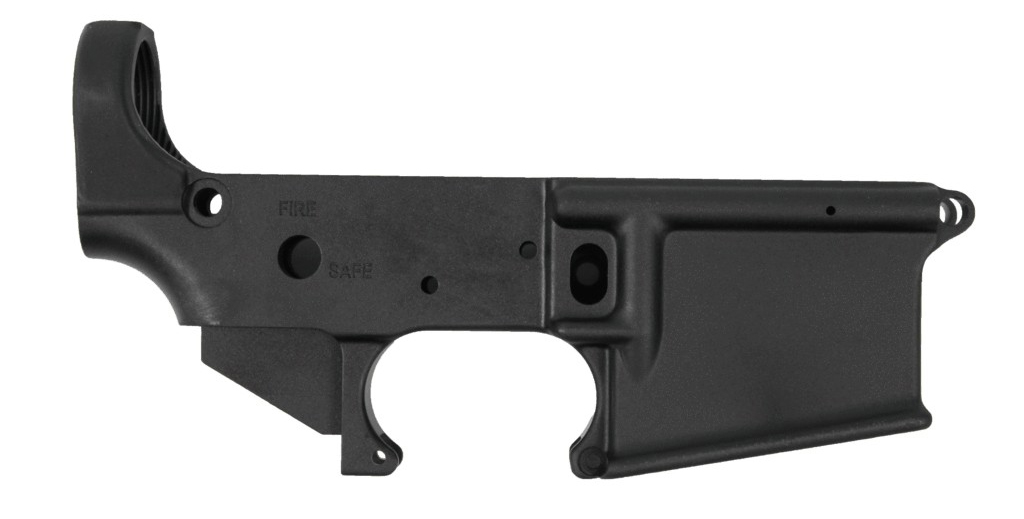 A standard stripped AR15 lower receiver. No internal components included.
Stripped Lower Receivers
As mentioned above; even without a trigger, magazine, or safety; and without being attached to an upper receiver, the lower receiver is considered a firearm. This means that you need to purchase your stripped lower from an FFL Dealer, and undergo a background check. So why buy a stripped lower if it has no parts with it? The ability to customize it. If a consumer buys a stripped lower, they can add their favorite trigger, grip, and various lower parts. Generally for higher end guns and shooters who are experienced enough to know what they need and like, stripped lowers certainly have their place.
Another huge benefit of stripped AR-15 lower receivers is that they have already been completed by the manufacturer. 80% lowers generally require you to have access to a drill press or a precision jig while stripped AR-15 lowers are ready to use the minute you get them out of the box. Before you get your stripped lower receiver, it will have already been finished on a CNC machine, meaning that it has precision fit, flawless finish, and tight tolerances. Ultimately, stripped lower receivers are completely ready to use when you unpackage them.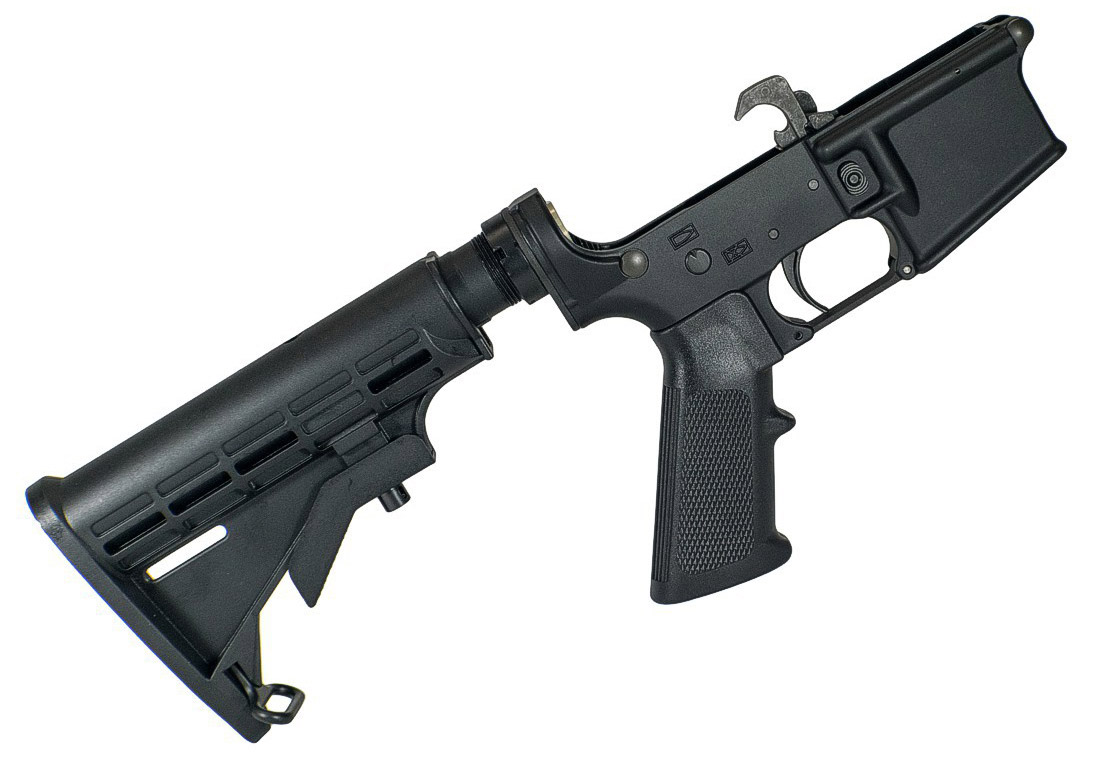 A complete AR15 lower receiver. This includes the fire-control group, buffer, stock, and the rest of the lower-parts kit.
Complete Lower Receiver
Like a stripped lower, complete lowers are still considered a firearm. The only difference is that these lowers are purchased completely assembled with a trigger, safety assembly, and magazine assembly (these parts are also referred to as a lower parts kit). There is no assembly required, you just pin it to a complete upper and you are ready to shoot. Generally for more inexperienced or price conscious shooters, a complete lower doesn't typically come with any bells and whistles like a high end grip or light trigger.
How Do You Transfer a Stripped Lower Receiver?
In order to legally transfer a stripped AR-15 lower receiver, you will need to have the receiver shipped to a licensed FFL just like you would any other firearm that you're buying out of state. The difference lies in the fact that since you are only receiving the receiver, there is no way to declare what type of firearm the FFL is receiving. You will probably notice on the paperwork that is filled out at the FFL of your choice that they mark the receiver as "other" when choosing the type of weapon. You will simply have to be at the FFL you shipped the receiver to, allow them to perform the necessary paperwork and your stripped lower receiver will be transferred to you.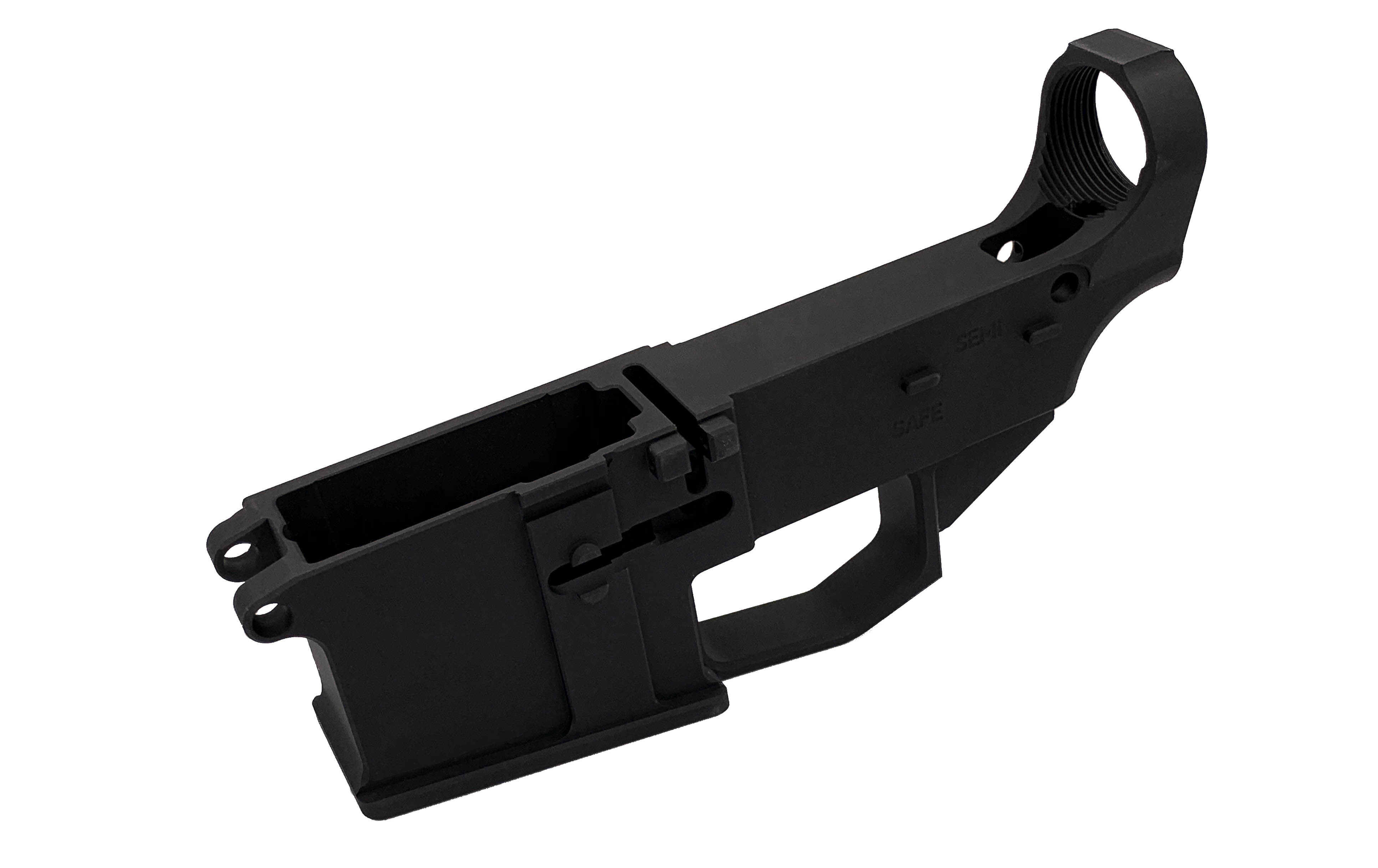 A stripped AR15 80% lower receiver. All it needs is milling and it will be ready to accept the LPK.
Stripped 80% lower Receivers
Technically, 80% lowers are stripped by nature, and do not need to be referred to as "stripped lowers". When comparing an 80% lower to a stripped lower, a few key differences arise:
-80% lowers are not considered a firearm by the ATF. This means no background checks, no FFL required, and no need to get off your couch.
-No serial number. Now, this is only true in some states so make sure to do your own research on your specific states laws, and 80% Arms offers serialized options for those of you in 2nd Amendment restricted states. But generally speaking there is no serial number, meaning the lower can be shipped straight to your door.
-Milling and tools required. Since 80% lowers are not completely milled out, there is labor and assembly required when purchasing one. With our 80% lowers and industry recognized Jigs, 80% Arms makes it easy to complete your lower.
Buy a Stripped Lower from 80% Arms!
Whether you need a serialized lower or not, 80% Arms can provide you with a high quality and affordable lower receiver, jigs, or an 80 percent lower kit! Ready to be milled out and completed with your favorite budget or high end lower parts, we offer lowers in various styles and colors, as well as high end triggers, grips, and miscellaneous parts needed to complete your next build!