Best Aftermarket Glock Trigger
Looking to get an aftermarket Glock trigger? While stock Glocks typically come with a great and positive feedback in their triggers, some may not be able to get used to the initial travel you have to get past in order to reach the 'wall' before the trigger 'breaks.' Sure, you could put a few thousand rounds through your Glock or GST-9 to fully break it in… but do you really want to spend that much ammo just to make the trigger feel better? (We sure wouldn't.) For a tighter experience with less squeezing and faster pew-ing many gun owners, both Glock and GST-9 alike, will opt for an aftermarket Glock trigger to enhance, improve and customize their trigger function and form.
Best Aftermarket Glock Trigger for Glock 19
Based on triggers we've used and tested ourselves over the past year, these are the best aftermarket Glock triggers currently on the market (to us). *General disclaimer, you should have a qualified gunsmith to work on your gun to guarantee best results.
Zev Pro Curved Face Trigger for Glock

Among the more affordable Glock aftermarket trigger options available today this is our first go-to option. Zev Pro triggers ($158) are a drop-in trigger for Glocks and Glock-style handguns that don't require a professional to install. Zev Pro triggers come with a curved version (our favorite) and a flat faced version as well. We love this curved trigger because it's a similar shape to the Glock's stock trigger, so it feels familiar instantly, but without the extra pre-travel. It also feels better and more substantial because of the metal shoe. You'll want to pair this trigger with Zev's Pro Connector which reportedly reduces the stock trigger weight by at least 15%. With the reduced pre-travel movement though, it could feel like even more than 15% has been reduced.
Zev Fulcrum Adjustable Trigger for Glock
If you're a fan of ZEV you might want to go all in on their premier drop-in trigger ($268): the Fulcrum Adjustable Trigger — which features adjustment screws which are built into the trigger shoe/pad to fine tune the pre-travel. This drop-in trigger is also offered in the Fulcrum Adjustable Ultimate Kit which is essentially half of a lower parts kit and half of a slide parts kit all made by ZEV. Those extra components include the following:
-ZEV trigger safety spring
-Ejector housing
-ZEV skeletonized striker
-ZEV 2lb and 3lb striker spring
-ZEV stainless steel firing pin safety
-ZEV firing pin safety spring
-Several adjustment wrenches
Apex Tactical Trigger for Glock


Apex has been a popular aftermarket trigger company that offers custom triggers for a wide variety of handgun manufacturers and that's true for Glock users too. The Apex Enhancement Trigger Kit for Glocks are even more affordable than Zev but they're a little chunky for our taste and there is usually a fair amount of creep in the trigger before you reach the wall. If you only want their Action Enhancement Drop-In Trigger it goes for as low as $99.95. If you also want Apex's connector the price steadily increases as there are a few different combinations of trigger shoe colors and aftermarket trigger components paired with them.
Agency Arms Drop-In Glock Triggers
As far as flat faced aftermarket triggers go for Glocks and Glock-style pistols, Agency Arms is by far our favorite. There are a few companies that imitate Agency's designs with aftermarket Glock trigger shoes but can never fully replicate the same level of quality or feeling. While Agency Arms' products and services are currently notorious for their slides and gunsmith services, their drop-in triggers are surprisingly reasonable! When you catch them in stock they can be had for as little as $145 before shipping and sales tax — they also will occasionally have different color selections to choose from for the trigger shoe.
Best Aftermarket Glock Parts
Having the best aftermarket glock trigger also involves other trigger components to create a completely custom and personalized shoot experience in terms of performance and ergonomics. Those components include the following: glock connectors, trigger shoes, slide parts kits, glock sights, magazine release button and slide lock release lever.
Glock Connector

The connector; it's so vital to improving the trigger's characteristics and is often treated as simply a quick fix. Lots of companies make aftermarket connectors and for the most part you can't go wrong with any of them, you just need to be careful of the weight of pull. If it's too light you could have light strikes or the trigger could also malfunction. The connector is simply one piece of the puzzle. In the same regard the slide parts kit you choose also has to be paired carefully as the striker assembly spring cannot be too light either. There is a certain timing that is involved between a trigger and its connector. If the reset feels like it's progressively getting shorter with each subsequent dry fire or trigger press, the timing has been screwed with and the likelihood of a malfunction becomes increasingly high with each subsequent shot.
Aftermarket Glock Trigger Shoe


Let's say you don't really care to drop over a hundred dollars in upgrading your trigger but would just like to modify its looks. Well, you can certainly do that — instead of getting an aftermarket Glock drop-in trigger which changes out the trigger bar (and sometimes connector as well) you can instead just get an aftermarket Glock trigger shoe. Knock the pins out of your trigger and slide on a shiny new shoe and no one's the wise. In fact, if you're not interested in an upgraded trigger bar, an affordable upgrade option would be to simply get the custom Glock trigger shoe and a lighter, aftermarket connector.
Aftermarket Glock Slide Parts Kit

Earlier we mentioned the importance of Glock slide parts kits in how the spring in the striker assembly cannot be too light if you're already using a lighter-than-OEM Glock connector. Well modifying these parts for increasing performance always opens you up to the possibility of needing to experiment with different spring tension weights resulting in a lot of trial, error and some frustration. To take reduce some headache we recommend getting Glock slide parts kits that are widely proven such as the ZEV upper parts kit or ZEV-PRO upper parts kit.
Aftermarket Glock Sights


When improving and modifying Glocks or Glock-style pistols, the part that always has to be replaced first is the sights. The Glock factory "U" shaped sights work, but they're just not effective and are not pleasant to look at as they can block a large portion of the target with its sight alignment (see figure above). We're big fans of XS big dot sights and the many Glock sights from TruGlo such as the Tritium Night Sights (basically anything that will glow in the dark). Personally, I'm not afraid to admit that I'm an adult that's still scared of the dark but on the practical level — don't you want to be able to aim properly in low light conditions too?
Extended Magazine Release button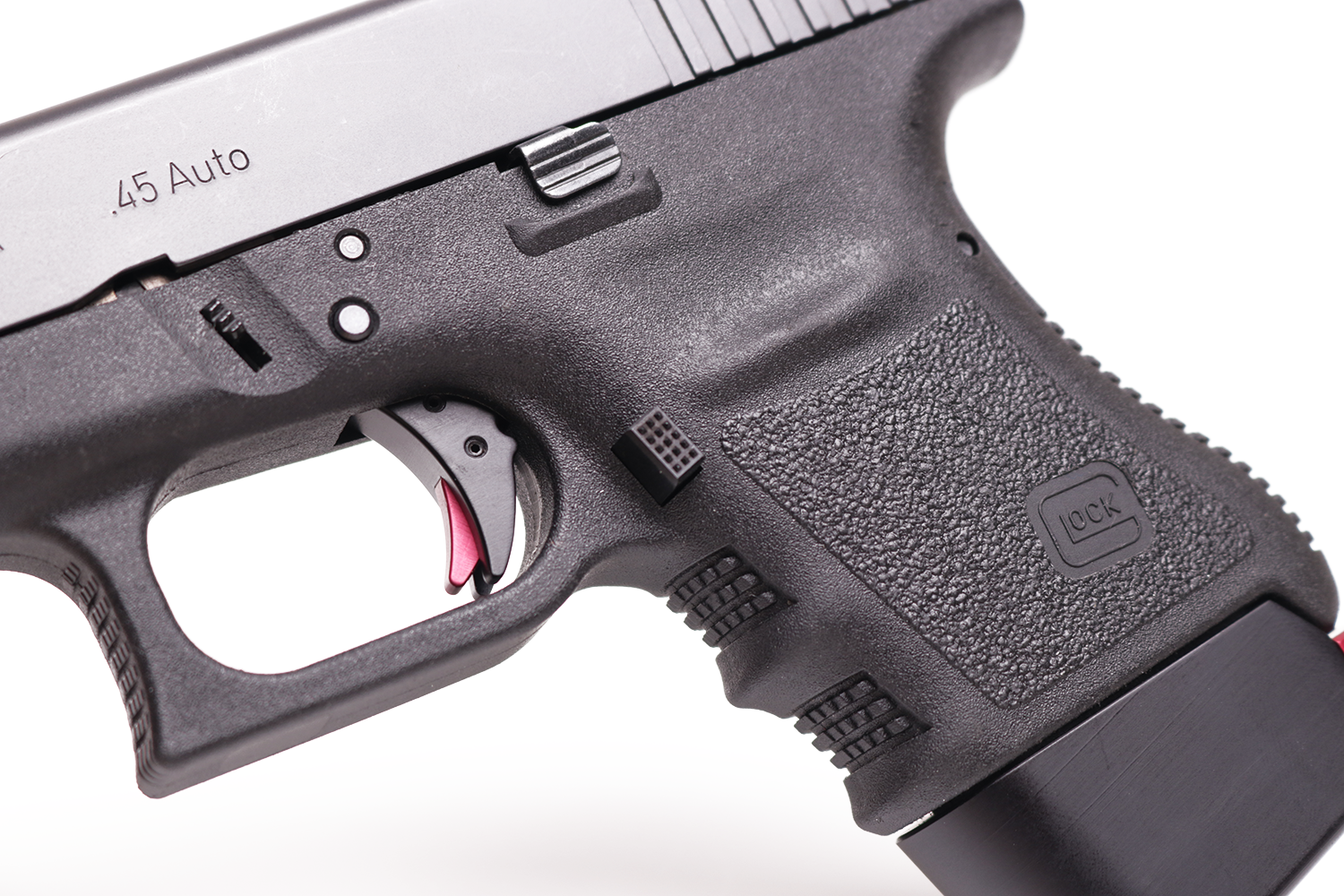 The OEM Glock lower parts kit for Gen 1-3 frames will include the same magazine release button that users have historically found difficult to depress no matter the hand size. That's why we're big fans of extended magazine release buttons so we can easily drop magazines at will with either hand (dominant or off-hand). The caveat that comes with a lot of extended magazine release buttons is that they stick out so much that it will either cut into your hand or you may experience some unintentional magazine drops every now and then. The solution? Find an extended magazine release button that isn't so large that it causes that to happen and either adjust your grip so the button doesn't hurt your hand or just deal with it. :)
Extended Slide Stop Lever

It's a small part but it's little things in life that really just make life easier and more enjoyable — extended slide stop levers are one of those things. Personally, I just think that it reduces (not completely eliminate) the need to rack your slide as often, especially when the slide racks back on an empty magazine. It's slightly faster too for speedy reloads. Don't believe me? Grab a shot clock and head out to the range to try it out for yourself.
Our Suggestion
In today's market, a lot of these parts might have 'Covid-pricing' with inventory and supply chains being a challenge for every company in the gun industry has been facing the past year and a half. Be on the lookout for 'blems' or blemished items, which are functionally 100% but may be aesthetically damaged or incomplete, if you're desperate for parts and components. Otherwise, we actually stock just about every product linked in this blog. Check out the Parts & Accessories section of our website for not only aftermarket Glock triggers but just about anything you'll need to trick out your Glock handgun or GST-9 build!
*Disclaimer
"Glock" is a federally registered trademark of GLOCK, Inc. and is one of many trademarks owned by GLOCK, Inc. and GLOCk Ges.m.b.H.. Neither 80 Percent Arms nor this site is affiliated in any manner with, or otherwise endorsed by, GLOCK, Inc. or GLOCK Ges.m.b.h.. The use of "Glock" on this page is merely to advertise the sale of Glock parts and other compatible components. For additional genuine GLOCK, Inc. and GLOCK Ges.m.b.H products and parts please visit www.glock.com.