Best AR 15 Tactical Light
If you've read our tactical pistol lights blog you now know I am an adult that's scared of the dark. You best believe I have a light for every gun I own and that obviously extends to AR15s. For those of you with more practical reasons for needing an AR weapon light such as law enforcement or military duty purposes these are the lights we currently own and would run ourselves.
What is the best AR light?
It's difficult to designate a single product as the best AR light. We've included our favorite products from the best brands in the AR weapon light industry along with brief reviews on what we think of each taclight including Surefire, Modlite, Cloud Defensive and Arisaka Defense.
SureFire
SureFire is a mainstay when it comes to taclights. With all of their military and law enforcement agency contracts I'm always surprised when I see service members or officers running anything other than a SureFire weapon light. Most companies also model their designs based off SureFire weapon lights.
M600DF Scout Light - $329


The number of SureFire Scout Light models are vast with at least 18 types currently being offered by SureFire and perhaps more that were previously discontinued but are still being sold by brick and mortar stores or online retailers. For AR15s that have 14.5" barrels and handguards, or longer, any M600 model will be relatively easy to mount and still have space for the offhand's grip.
For AR15s that have barrels and handguards shorter than 14.5" it may be much easier to use a M300 model due to its more compact length won't get in the way of your grip as much — it will also be easier to mount as internal parts, such as the gas tube or gas block, won't be in the way of the locking lugs and screws. The M600 Duel Fuel Scout Light features up to 1,500 lumens and is the flagship Scout Light Pro in SureFire's lineup of AR15 tactical lights. The biggest complaint surrounding SureFire Scout Lights is the difficulty in mounting them more optimally to an AR15's handguard or their expensive pressure switches.
Streamlight
Among the more affordable AR15 tactical light options out there, Streamlight is always going to be your best bang for buck. If you're on a tight budget, just grab a Streamlight because their taclights will even come with a pressure switch which SureFires do not come with. SureFire pressure switches are notoriously expensive and overpriced.
Protac HL-X Long Gun Light - $148.10
Now just because Streamlight is a more budget option does not mean it by any means is not a good option. Check out the full video review from SageDynamics on the Streamlight HLX where the Protac HLX is thoroughly tested, beat on and used. Since this light also has multiple brightness settings including a strobe feature, with low settings used, this light's batteries can last up to 22 hours of runtime. On the high setting the Protac HLX meets the industry standard of 1.25 hours run time.
It's a 1000 lumen light that can light up targets well past how far out you can accurately shoot. SureFires have a very bright candela, or tight beam which in close quarters can make it difficult to see things. In comparison, Streamlight taclights they don't have as hot of a candela but they cover the peripheral areas much more in comparison. So if you're wanting to light up a larger area, this taclight might actually be more suitable for you.
Modlite - $309

Modlite has some of the most amazing tactical rifle lights in the industry. For the price of a SureFire Scout Light a complete Modlite rifle setup is very comparable and hands down has the best pressure switch button compared to any other tactical flashlight manufacturer out there. Personally, I run a M600 w/ a Modlite ModButton but if you prefer being brand loyal and having your parts be more uniform, this brand has been a serious contender against SureFire since they got their start only a couple years ago.
Modlite Light Bodies
What do we mean by light bodies? Well, Modlite essentially has two different type of light bodies. They can be differentiated on Modlite's website by the type of battery that fits into each respective body. Modlite lights do not use CR123A's but use the 18650 and 18350 rechargeable batteries instead. Per light body there is a black and FDE option for each battery type. The 18650 has a run time of about 1.25 hours (industry standard). The 18350 is the more compact body design and battery which has a run time of only 35 mins.
Modlite Light Heads
Modlite has two light heads: the PLHv2 and OKW. These heads are interchangeable so you could choose to just buy one body and have both light head types if you wanted. The OKW has a very strong throw which can reach out 200 yards easily with a much tighter beam than any other tactical right light.
Whereas the PLHv2 light head has more 'flood' so it provides better situational awareness and is easier on the eyes when using it in close quarter situations. Not that the OKW can't be used in CQB, it's just not what the head was designed to be optimal for. Another cool thing about the Modlite Light Heads is that they can be treated as a direct replacement for a M600DF head on a SureFire.
Cloud Defensive
In terms of SureFire/Streamlight alternative brands, Cloud Defensive is a lesser but still well known brand for their OWL and REIN taclights. Cloud Defensive has been in the business of making tactical lights since 2016 and they don't plan on stopping anytime soon.
OWL Light - $369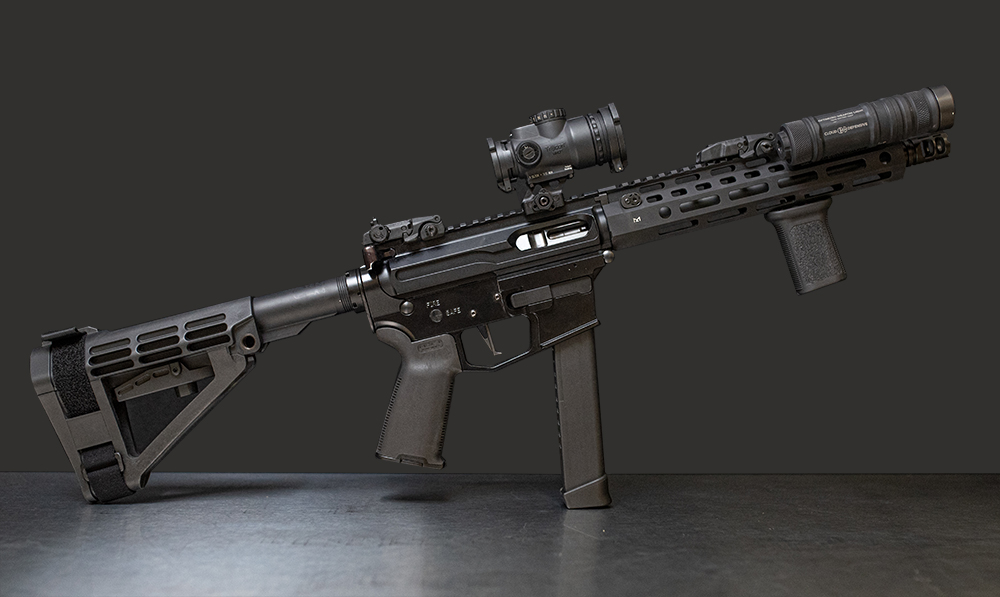 The OWL light stands for 'Optimized Weapon Light' and the name is fitting for its convenient and tough design. The OWL also utilizes the 18650 rechargeable battery outputting 1250 lumen and 50,000+ Candela. As an AR weapon light it is as convenient as it gets with no external wires, plugs or sockets to deal with which makes the light that much tougher with less susceptibility to water or debris. How did they accomplish this? Take a look at the photo above.
The OWL is designed with an integrated button switch that can be mounted directly to any AR15's picatinny rail. It's kind of a beefy boy but this AR weapon light is fully submersible and waterproof — IPX8 rated for a depth of 200 feet for 24 hours. Cloud Defensive reports that the OWL can have a run time from anywhere between 75 to 110 minutes which is higher than the industry standard.
REIN Light - $299 to $369
Cloud Defensive's REIN was released in 2020 and is their answer for a comparable competitor to SureFire's M600 Scout Light. REIN utilizes the "LCS" or light control system which is Cloud's version of a button switch. The LCS switch has two buttons: one for momentary on and off toggling of the light and one button for constant on and off. The momentary button is a little small since it's just a circle unlike the larger square on the Modlite Button but it's certainly much better than the pressure switch made by SureFire which is not only expensive but not easy to actuate.
The constant on and off button has a tactile "click" sound whenever pressed which is kind of loud but even if you do mind that it's still a great alternative if you're trying to buy a taclight system not made by SureFire (although there's not much difference in price). Cloud Defensive also has a very cool program that if your light is ever stolen, destroyed in a fire or some other circumstances they will send you a free replacement at no extra cost to you.
Arisaka Defense
Arisaka Defense is a great online retailer that offers lots of cool must have accessories when it comes to rifle flashlights but they also sell their own rifle mounted light. Unlike most AR 15 tactical light makers, Arisaka offers a universal body that will work with a wide variety of light head units, switches and even have an IR friendly option. The biggest sell in Arisaka Defense's taclights is that their site allows you to conveniently choose between a couple different light heads, a couple different light bodies, several different tail caps, and even more different mounting solutions. It may be overwhelming for those unfamiliar to all the tactical light product offerings but for those more familiar it's quite the valuable resource.
18650 Series Light Black - $220 to $269


Arisaka's light bodies are compatible with light heads from SureFire and Modlite but they also have their own unit. If you get the 18650 Series Light on Arisakadefense.com you can choose to purchase the light with either the OKW head or their Malkoff E2XTL head along with several options for the tailcap and light mount method. With the Malkoff E2XTL, this Arisaka taclight can have a run time of 1.5 hours using the 18650 battery while outputting 500 lumens with 55,000 candela. While you can use CR123A batteries, the output and run time both significantly reduce if you don't use the 18650.
600 Series Light Black - $180 to $290


The Arisaka Series is a more compact light compared to the 18650 but has several more light heads options to choose from. As far as AR15 tactical lights go it can get a little confusing with all the options that Arisaka offers but their site is very clear on the specs, output and run time of each light head for the 600 Series Light. If you choose to go with Arisaka make sure you read the fine print before accidentally buying incompatible light parts or accessories.
Shotgun Tactical Light
Shotgun tactical lights are awesome but mounting them can be quite difficult. You can buy a handguard that has an integrated light, use M-LOK attachments or even picatinny rail mounts. It all depends on what kind of shotgun you have. Obviously shotguns are not AR15s but they are both long guns so we wanted to include this small section as well.
Streamlight ProTac Rail Mount 1 - $183.75
Of course, you can attach a rifle weapon light with extremely bright lumens and candela to your shotgun if you want. However, since any tactical shotgun would be used at strictly CQB distances or even point blank, you really don't need that much light. It also might do you well to not increase the weight of an already heavy gun with a full size taclight. After all, "ounces lead to pounds and pounds lead to pain." If you've got a picatinny rail the Streamlight Protac Rail Mount 1 could be a great choice for shotguns because of its lower output and how it already comes with a pressure switch. It's also very affordable.
Tactical Lights To Avoid for AR Rifles
These are the taclights we think you should absolutely avoid if you're buying it for an AR style rifle.
Olight Odin

Don't be honey potted by the sweet, low price of the Olight Odin. It seems like a great deal because of the high output of 2,000 lumens and half the price of any other respectable taclight on the market. However, because of the proprietary switch that Olight designed, it's incredibly easy to activate the overly large switch and accidentally keep it on during the day or at the range without you even knowing.
By the time you get around to need to use the light in the dark — maybe you want to light up the backyard to check on a weird noise you heard as the sun was going down, you'll realize the battery is spent and spend a frustrating amount of time troubleshooting not realizing that the battery is just dead and that the light is not broken. Your only option to avoid this if you choose to run with the Odin is to not use the pressure switch and solely rely on the tailcap button. Better yet, avoid the light altogether. Just get a real taclight and avoid the embarrassment altogether.
Which tactical light is best?
Among all these "different" brands' flagship AR 15 tactical light options, our recommendation is prioritized in the following order: product availability (is it in stock), price, functionality, reliability, and convenience. Our first choice for tactical right lights would be Modlite's 18650 light body with either of the PLHv2 or OKW light heads. Their price is comparable to SureFire's M600DF and likewise you still need to choose a tailcap, mounting solution and pressure switch for either the Scout light or Modlite.
While Modlite is a relatively new company, if you're nervous at all about Modlite light bodies' durability you could put a Modlite head on a SureFire body to ease your mind. We'd never buy another SureFire pressure switch if we could help it because the Modlite Button is perfect in terms of size, feeling and it's quiet too.
Honestly, you can't go wrong with SureFire's M600DF Scout Light, but if you plan on being under water we'd get the Cloud Defensive OWL because that taclight is an absolute tank and oh so convenient with its built-in pressure switch and picatinny mounting solution. We're currently testing the REIN but for the price point you might as well buy a SureFire or a Modlite so we don't really see the point unless you're just a big fan of Cloud lights. Lastly, stay away from Olight.