Fixed or Folding AR-15 Sights
Do you want fixed or folding AR-15 sights on your rifle? You would think it is a simple question.
It is anything but simple, though. The sight you choose for your rifle may change how you shoot, your accuracy, and what situations you tailor your rifle to.
Back-Up Iron Sights
A rear iron sight is inexpensive. You can find them in steel, aluminum, or even polymer. Steel is a fantastic choice if you want durability, but it is also slightly more expensive and adds a bit of weight to your rifle. On the other hand, aluminum is lighter, but it does not have the same durability as steel. Let's take a look at a list of pros and cons you need to compare before you can decide that is right for you.
Fixed or Folding AR-15 Sights?
Choosing which type of sight — fixed or folding — you need for your rifle is simple.
Fixed Sights — A fixed sight offers greater durability and reliability, but you cannot fold it out of the way of, say, a holographic scope mounted on the rifle.
Folding Sights — A folding sight is a more popular option — When not in use, fold the sight into the downward position.
Folding Sight Advantages
Besides the ability to fold, which is a substantial advantage all its own, a folding rear sight offers a few benefits shooters are keen to utilize.
Depending on how long you have been shooting, you may recall fixed A2-style rear sights familiar with older model AR-15s. Well, today's modern rear folding sights, like the ever-popular Magpul MBUS, offer performance and accuracy similar to the A2-style sights. Even better is, when you are on the fly, the MBUS folds quickly and does not obstruct your view.
In a pinch, you may pop the sight back in place, thanks to a spring-loaded button.
Co-Witnessing Your Sights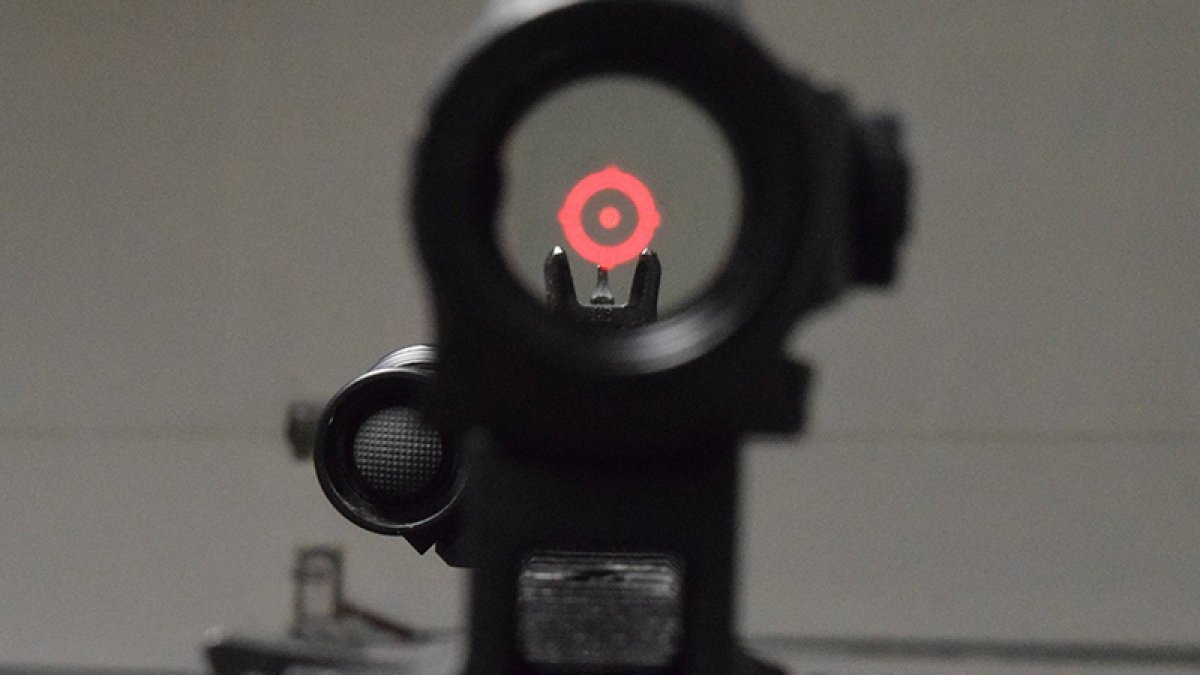 Co-witnessing your sights involves aligning your optic and iron sights to provide a single sight picture, with zero interference between the two. If you aim down your rifle, you will look straight through the optic without missing a beat through the iron sight.
Absolute co-witnessing means the front and rear iron sights line up perfectly with whatever red dot or holographic sight you have installed on your rifle furniture. A few advantages of this technique include:
Ideal for low cheek rest positions
Your sights sit a bit lower on the rifle
Reduced weapon profile
Lower 1/3 co-witnessing means that the iron sights will be in the lower 1/3rd (you guessed it) of the optic window. This has a few advantages as well:
More upright head position (better for shooting quickly or in odd positions)
Iron sights won't interfere as much with your sight picture
Have you decided on which you want, fixed or folding iron sights? Either will serve you well, depending on your shooting preferences.
Before you purchase sights, you need to buy or build a rifle. We recommend doing it yourself, as constructing an 80% rifle is easy and a fantastic way to personalize your AR-15 to the max!