HOW TO: ​Build a California Compliant AR15
With California hell-bent on restricting 2nd Amendment rights, it can seem like a daunting task to build a California compliant AR15 that won't leave you with a hefty fine, or even a possible prison sentence. That's why I want to help spell out exactly what to do, and most importantly what NOT to do when designing your AR15 build in order to meet California regulations. With new bills and laws being pushed and reviewed all the time, make sure to check periodically on the current rules and regulations; California's gun laws can be read in all their wisdom and glory by visiting California's Bureau of Firearms website.
So, How Do I Build A California Compliant Rifle?
Now, into the meat and potatoes of this article: when building an AR15 in California, you have two options: Featureless, or Maglock. Both options are equally ridiculous, but I'm going to break down these options for you so you can pick the least ridiculous choice for your needs. It is important to note, that with either option you choose, and even with an 80% lower receiver, you MUST register your firearm in California, which requires your 80% lower to have a serial number issued by the state, and then engraved into your lower receiver.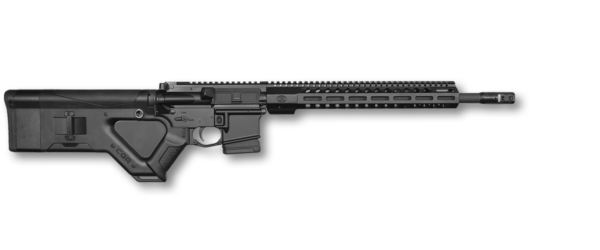 A "Featureless" AR15 with a Compliance Kit
Featureless:
California considers a featureless rifle as one without any bells or whistles that make the gun "more lethal", however this does not include standard capacity magazines. To reiterate, with a featureless rifle; the consumer can run any capacity magazine legally. The following list is what your rifle cannot have in order to be considered featureless:
Pistol grip: A stand alone vertical pistol grip is unlawful. Your hand should not be able to grasp around the grip uninterrupted.
Thumbhole stock: Again, the action of grasping the grip all the way around is unlawful.
Telescoping/folding stock: Any folding, or collapsible stock is prohibited. Fixed stocks only.
Flash hider: Not to be confused with a muzzle brake or compensator, flash hiders are the only muzzle device banned by California.
Grenade or flare launcher: This seems pretty self explanatory. If you find yourself bolting on a grenade launcher, stop.
Forward pistol grip: No vertical grip of any kind is allowed, however angled grips are permissible.
When looking at the above list, it can certainly be confusing at first glance. But just as California is determined to make ridiculous laws, the gun community is determined to find work arounds. My advice when designing your 80% build, is to find a California compliance kit to ensure your build is without a doubt, 100% California compliant. These kits will come with everything you need (or rather nothing you don't) and give you complete peace of mind in your firearms legality, without any of the guess work. Check with your 80% lower manufacturer to see if they offer any California compliant options.
A demonstration of 80% Arms Freedom Button Kit
Maglock:
The Maglock option is essentially the exact opposite of the featureless California compliant option. When exercising the Maglock option, the consumer can have a pistol grip, collapsible stock, flash hider, and even the forward pistol grip (the grenade launcher is unfortunately still illegal). However, with this option, standard 30 round magazines cannot be utilized (unless blocked to 10-round capacity), and the mag release button cannot be functional; hence the term "Maglock."
The Maglock option provides you with 2 different parts for your standard AR15; a replacement rear takedown pin, as well as a replacement bolt catch. Since the Maglock option makes it impossible to change your magazine with the rifle is intact, these replacement parts make "taking apart" your rifle extremely efficient, so that mags can be changed more quickly.
There are numerous Maglock options, and the best options will be reviewed in a later blog post, but for now I advise you to choose a reputable company with history in the 80% market, and enjoy the workaround to a law that does nothing but infringe on law abiding citizens like you.
Conclusion:
To sum up your options, you can run a standard 30 round mag with a featureless rifle, or run a locked 10 round mag on a rifle with your favorite attachments. Like most decisions involving guns, it all boils down to personal preference and what your intentions for the firearm. Some might choose the comfort of having features, and sacrifice quick reloads, but others may want just the opposite. Whatever you choose, we just want to thank you for continuing to support the 2nd Amendment in a state that tries to make it so difficult to do so.